Rolls of Honour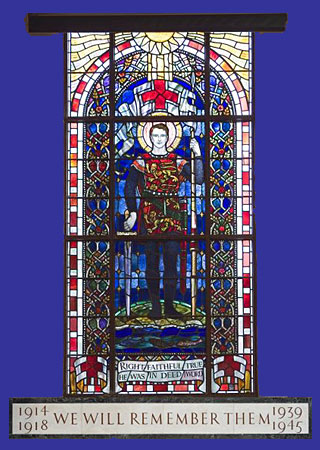 Originally in Taunton's School, Highfield, the Taunton's College War Memorial was the work of Sidney Boyes, artist and sculptor, who attended Taunton's School (1892–1894).
The Memorial Window depicts the idealised form of the warrior in the person of St. George and he stands on an island, holding his banner, his surcoat displaying the lions of England. The window includes the quotation, by Edmund Spenser, "RIGHT FAITHFUL TRUE HE WAS IN DEED AND WORD", taken from The Faerie Queene.
The original window in the Highfield building was Romanesque and had a border with a design based on England's flower, the rose, and included two shields, the saltires of St. Andrew and St. Patrick.
(Photograph by Richard Le Marechal)

Rolls of honour: