Membership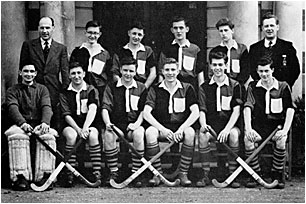 School 1st XI Hockey, 1956–57
Scanned from Spooner History

The OTA exists to help members keep in touch with school and college friends, and make new ones.
A membership database, which includes email addresses, is maintained to help members contact old friends when they have lost touch.
Twice a year we publish a printed newsletter (News & Views) that goes all over the world.
Each year an Annual Reunion Dinner is held in November, on the Saturday nearest to Armistice Day. Other events are also organised.
The Association no longer runs any sport sections. The Southampton Hockey Club, whose players wear a badge with elements of the Tauntonian badge, was formed from the OTA Hockey Club. Similarly, for those interested in cricket, there is the Old Tauntonians and Romsey Cricket Club; details of this club are here on a separate web site. Both clubs are always very pleased to hear from anyone who wishes to play the sport in question. If hockey is your thing, you will find information about joining on the Southampton Hockey Club web site. As far as we are aware, the OTA Football Team, that played in the Southampton Veteran's League, is no longer in existence.
For those interested in golf, there are two societies:
One is largely concerned with running an annual Triangular Match with Old Tauntonians versus Old Symondians and Old Edwardians. This tends to attract the better golfers among us, with handicaps of 8 or less.

The other group, or 'The Rest' as some call them, is made up of people who enjoy playing golf. There are about thirty names in this group and we will be delighted to hear from anyone who would like to join them. The group's main event each year is the Old Tauntonian & Old Bournemouthian Golf Day. The OTs play for The John Rush Trophy, while the OBs play for their Seniors Trophy. To add extra spice to the day, there is a Stableford Competition for players from both Associations.
If you are interested in the Triangular Match, then please email David Defty at ot-trianglegolf@ota-southampton.org.uk. For the other group, or "The Rest", please email Tony Robinson at golf@ota-southampton.org.uk.
Our web site offers another way for OTA members to keep in touch with what is going on. It also provides a vehicle for you to contact the OTA and express your views on how you would like the Association and this web site to develop in the future.
To register as a member of the OTA, send an email to the Membership Secretary at membership.secretary@ota-southampton.org.uk. Membership costs only £5.00 per annum and ensures that you keep in touch with friends through our biannual newsletter.
We welcome ALL eras of Tauntonians, no matter how long ago you left school or college. The majority of members, it has to be said, are mature in age. To create a balance, it would be good to have many more younger Old Tauntonians (i.e. ex-Taunton's College students) join the Association. It needs continuity, new ideas and new life, and ex-students of Taunton's College could help to achieve this.
Tell us what you would like to get out of the Association. We shall never know unless you do. Not knowing, we shall be none the wiser about what should be done to encourage your membership.
So the question is, what can we do for YOU?
We hope you will join and encourage others to do so. And, if it is news of contemporaries you are seeking, you may well have come to the right place.