History of Taunton's College…
and the Old Tauntonians' Association
Taunton's College was founded in 1760 at the bequest of Alderman Richard Taunton (1684–1752), Wine Merchant, Privateer and former Mayor of Southampton.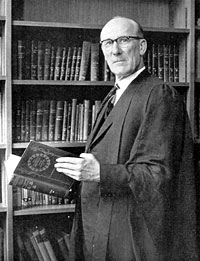 H Spooner
Scanned from the History

Our brief history of Taunton's College is largely based on H Spooner's A History of Taunton's School, Southampton, 1760–1967.
For ease of reference, we have divided this history into four parts:
The origins of the Old Tauntonians' Association date from an Old Boys Dinner held in 1899 to celebrate the opening of extensions to the School in New Road.
Photograph of H Spooner was scanned from the History, where it has the caption 'H. Spooner, B.A., master at Taunton's, 1927–65; Second Master, 1952–65'. H Spooner was called Harry by the boys, but all the staff and his friends knew him as Dick!