College 'Young Musician of the Year Award' 2004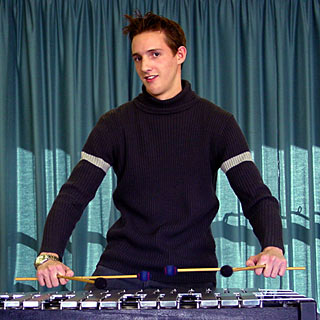 Gregory Felton, Young Musician of the Year 2004
Photograph courtesy of Taunton's College

Our Chairman, John Martin, attended the College's Celebration Evening on Thursday 16 December, to present a new trophy to Gregory Felton, the Young Musician of the Year, on behalf of the Association.
At the Festival of Music for Youth 2004 at the South Bank London, the Taunton's College String Orchestra performed a Concerto for Marimba and Strings. The concerto is an original piece by Greg, who reached the third round of 2004's BBC Young Musician of the Year and has a place at the Guildhall School of Music and Drama in London.
The guest of honour at a very pleasant evening was Manisha Tank of BBC News, a former student of the College.
John reports that the evening started with a breathtaking exhibition by the women's trampolining team, after which Jenny Fitton gave a review of the College year. John took the opportunity to comment on how Taunton's College had developed from Taunton's School and on the high regard in which those who were at the School hold the College. He encouraged those students who had left, and those who were about to leave, to come and join the Association.