(Golf) John Rush Trophy 2005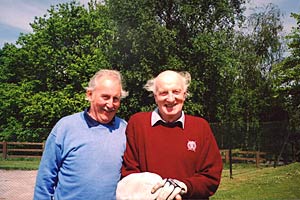 Organisers (l to r): John Bathurst (OT) and Gordon Prosser (OB)

The Old Tauntonian & Old Bournemouthian Golf Day was held at Dibden Golf Centre on Thursday 12 May. After a miserable couple of weeks prior to the event, the day dawned bright and sunny and, although there was a very annoying wind, the course was in great condition and unlike last year buggies were allowed. That fact may not seem significant unless one knows the age and condition of many of those who wish to play in this meeting.
Of the 40 golfers who took part, 36 were over 60, many over 70 and one nearly 80. As a consequence, all the available buggies at Dibden – all six of them – were booked and we had 12 more players than we would have done if the rain had appeared – a record turnout.
John Rush was unable to join us in the evening because of continuing problems with his health, but we drank his health and look forward to seeing him next year.
We had three simultaneous competitions: The John Rush Trophy, The Old Bournemouthian Seniors Trophy and an Overall Stableford Competition. Our agreement with the OBs to join together for this afternoon has worked extremely well and makes for a lively and sociable event.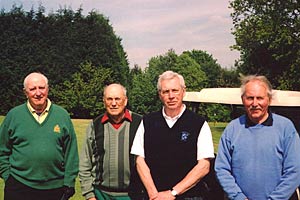 Group of OTs (l to r): Chris Tomlin, Roger Knight, Joe Fisher, John Bathurst

Roger Knight (father of the winner of the John Rush Trophy for the past two years) had fretted for days that his son would repeat his success. Roger felt it would not be good for the competition should the same name be added yet again. He was also anxious to avoid the further expense of yet again having to pay for the engraving!
Despite a handicap cut from 17 to 14, Richard very nearly did it again. He got 37 points but was topped by Eric Morgan (19), who went one better at 38. Ralph Turner (17) again came close. He was second last year and third, with 35 points, this year.
John Colley, an Old Bournemouthian playing off 23, won the combined event. He scored 40 points. Eric Morgan was second, and Richard Knight came third.
It is becoming traditional that the top eight scores from the OTs and the OBs are compared. The Tauntonians totalled 270 points, while the Bournemouthians achieved 245.
The spirit in which the afternoon is played and the evening dinner taken is one of great friendship and light-hearted rivalry.