Annual Reunion Dinner 2006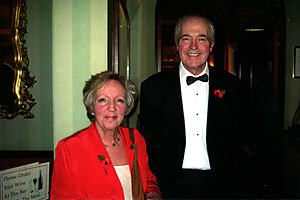 Sue and Ian Carnaby

The 96th Annual Reunion Dinner was held at the Southampton Park Hotel on Saturday 11 November 2006. Chairman of the Dinner was Ian Carnaby (1960–1967), who was accompanied by his wife, Sue.
Guests included The Right Worshipful the Mayor of Southampton, John Slade, and also Jonathan Prest (Principal of Taunton's College and President of the Association), John Davis (Old Bournemouthians) and Charles Taylor (Old Symondians).
Master of Ceremonies at the Dinner was Ron Allison, who opened the evening on behalf of the Dinner Committee by thanking the OTs present for their support. The decision to change the venue had not been lightly taken but had proved to be a great success.
Prior to the interval came The Loyal Toast, The Memory of Alderman Taunton and The Memory of the Fallen. As it was no longer possible to face the Memorial Window for the latter, a special facsimile of it had been professionally created. At about two-thirds the size of the actual window and in full colour, it was very effective and added to a moving moment.
John Martin welcomed the guests, particularly the Old Tauntonian Mayor of Southampton, John Slade. He also welcomed members of the College Management Team, Matt Atkinson (Vice Principal) and Glenda Gardiner (Assistant Principal), and members of the Student Committee. Other College guests included several staff members who had retired during the year. Prior to proposing the toast to the College, John congratulated Jonathan Prest and the College on its continuing success.
Jonathan Prest, responding to John Martin, said there had been many been many delights in the first year of his time at Taunton's, not least meeting OTs here at this dinner and subsequently in a variety of guises, including David Defty, who was now a member of the Board of Governors.
Jonathan briefly reviewed the past year at the College. Two students gained places at Oxford, one to read English at Trinity, the other Maths and Computer Science. The A level pass rate and vocational course results all improved. Twice as many students started the International Baccalaureate this September, the course having been introduced for the first time just over a year ago.
There has been a renaissance of voluntary work and extracurricular activity. The Old Tauntonians had helped sponsor the 12 students who visited Tanzania last summer to assist building a school.
In sports, Taunton's had continued its predominance amongst Hampshire Colleges and beyond. Eight teams reached national levels of competition last year.
Ambitious plans for investing in Taunton's College continue apace, there being a scheme to raise between £3 and £5 million "in house" and a bid for government support for a further £15 to £20 million to provide outstanding facilities for youngsters in the local community. Jonathan then proposed the health of the Old Tauntonians' Association.
Ron Allison introduced the Chairman, describing him as a Journalist and Broadcaster with a love of Southampton Football Club. Ian joined Taunton's from Shirley School. He was Chipperfield House Captain. After Taunton's came Cambridge University, where he graduated in Spanish and South American Studies. He joined IDV Ltd, where he had a successful career, however his love of sport lead him to the BBC and subsequently to his life as a freelance sports writer and broadcaster.
Ian Carnaby then delivered a quite masterful address. Expressing his pleasure at the presence of so many friends, Ian said he'd always wanted to be the Chairman on this particular evening, especially as it fell on Remembrance Day itself.
Ian felt it was time to acknowledge certain things. He now knew that he wouldn't be presenting Grandstand, he wouldn't play in goal for Saints and he wouldn't be appearing in the Rockford Files.
"Put briefly, I'm a scribbler, a broadcaster and gambler, and outside of my immediate family the things that matter most to me in life are Southampton, Taunton's and Marcel Proust."
Recalling that Proust said that certain things stay with you all your life, Ian ranged over many experiences and concluded by saying, "I've been to many of these dinners in Southampton and London, and I've sat and listened to the main speaker and thought: 'Blimey, this chap has made a success of things all the way through, from A to Z'. And I'm not like that, because I think everything has been quite patchy really and not as I intended. But I've met some fascinating people along the way and whatever happens now, I'll always be able to say I did the talk that mattered most to me on the day that mattered most, surrounded by the people who matter most."
A full account of the evening will appear in the April 2007 edition of News & Views.