Old Tauntonian & Old Bournemouthian Golf Day 2007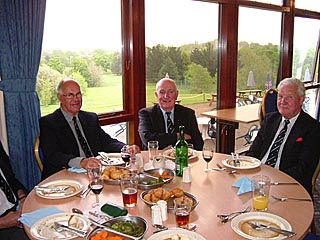 OTs at the dinner, all wearing OTA ties (l to r): Don Windless, Chris Tomlin and Norman Hardisty

The Old Tauntonian & Old Bournemouthian Golf Day was held at Dibden Golf Centre on Thursday 17 May. "Who can explain it, who can tell you why" but the weather was glorious. In fact many of the players complained that it was too hot! And this was after days of wind and rain, which returned the following day!
As in most years the date did not suit everyone and we were minus a number of friends. Among those unable to attend were: Roger Knight, Ken Boundy, Danny Nixon, David Defty, Paul Gannaway, Ted Munday, Tony Herding and the man who gave his name to the OT competition, John Rush.
The 32 golfers played three competitions simultaneously: The John Rush Trophy, the OB Seniors Trophy and an overall Stableford competition.
An excellent day and evening was had by all.
Results
Old Tauntonians' John Rush Trophy:
Richard Knight (14) – 37 points
Old Bournemouthians' Seniors Trophy:
John Knight (14) – 37 points
Overall Stableford:
| | | |
| --- | --- | --- |
| 1. | Richard Knight | 37 points – back nine 21 |
| 2. | John Knight | 37 points – back nine 18 |
| 3. | Clive Amy (OT) (17) | 36 points |
| 4. | Joe Fisher (OT) (24) | 35 points |
| 5. | D. Perkins (OB) (18) | 34 points |
| 6. | H. Tollerfield (OT) (10) | 32 points – back nine 20 |
| 7. | P. Muddiman (OT) (8) | 32 points – back nine 15 |
| 8. | S. Knight (OT) (14) | 31 points |
| 9. | I. Coombs (OB) (15) | 30 points – back nine 16 |
| 10. | B. Burdett (OB) (26) | 30 points – back nine 13 |