David Harrison to be R&A Captain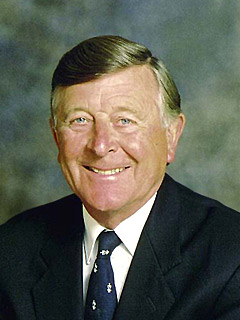 David Harrison

David Harrison (1948–1956) has been nominated as Captain of The Royal and Ancient Golf Club of St Andrews (R&A) for the coming year. He will assume office at the traditional driving-in ceremony during the autumn meeting in September.
David Harrison joined the R&A in 1981 and from 2003 to 2006 was Chairman of the General Committee. He has also served on the Rules and Championship Committees and was a member of the R&A Training Panel for more than 10 years. He is a qualified Rules official and on many occasions has acted as a referee at The Open Championship and other major golf events.
While at School he played for Hampshire and won an England Boys' cap in 1954 and a Youths' cap the following year.
An Oxford Blue, he represented the RAF from 1957 to 1958. David played for Hampshire from 1955 to 1980 and was County Champion a record six times. He has been President of the Hampshire PGA since 1982 and is President of the Hampshire Schools Golf Association.
David is a longtime member of Stoneham Golf Club, along with his other close friends and fellow OTs Clive Cole, David Arnold, Steve White, Johnny Rush, David and Jamie Pinchon.
David was honoured to Chair our Reunion Dinner in 1995.