Old Tauntonians Centenary Annual Reunion Dinner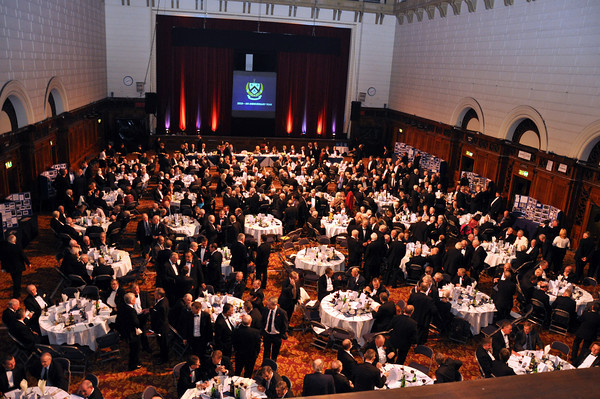 View of a Great Occasion
The Guildhall Southampton - Saturday 13th November 2010 - a report by our Special Correspondent Johnny Bathurst
On a very special and magnificently attended evening at Southampton Guildhall in November, 450 Old Tauntonians and their guests enjoyed the aura of this now ageing but still splendid building for the final celebration of those three anniversaries. A year or so ago the Dinner Committee and the Executive Council - cooperating with Taunton's College - started to plan what they hoped would be something that Tauntonians of all eras and ages would wish to remember, for never again would we experience in a single year anniversaries of such significance. Perhaps it is immodest and not for us to comment. But we will, because it succeeded beyond anything we had dared to dream of. It was, indeed, a super evening. The Chairman of the Dinner was Ted Colenutt (1931-38 and 1946-84) who was accompanied by his daughter Liz Henderson and escorted by his sons John and Paul. The guests at the top table were The Mayor and Mayoress of Southampton Councillor Carol Cunio and her daughter, Ruth, Dr Alan Whitehead MP, Richard Martin (Chairman of Governors, Taunton's College), Mrs Alice Wrighton (Principal, Taunton's College), David Wrighton, Mrs Jenny Fitton (Former Principal, Taunton's College), Jonathan Prest (Former Principal, Taunton's College), Ian Murray (Editor, Southern Evening Echo) John Davis (Old Bournemouthians), Maurice Rowles (Old Edwardians) and Ray Anstis (Old Symondians) Old Tauntonians accompanying our guests at the table were Martin Rowe (Secretary, Dinner Committee), Ron Allison (MC and Toastmaster) and John Martin (Proposer of the toast to The College). Guests from the College Staff were Matt Atkinson, Annelise Miller, Phil Berry and Jane Higgins.

Ron Allison (1942-50) opened with a general welcome to all present. 'Of the essence' on this particular evening was Ron's task of ensuring that speeches did not exceed their allotted time, that people were in their seats when they should be and that the interval of "X" minutes did not extend to "X + anything" (as has been known!). An extra item had been added to the traditional Toasts and Responses which, with the volume of people to be served, made essential the observance of the military style timing so expertly devised by Bob Newell. As far as we are aware all went (very nearly) according to plan and no reports have been received of anyone being put on a "fizzer"! Prior to the meal Johnny Bathurst (1941-50) delivered a brief history of Taunton's School. While many in the audience were familiar with much of the content, there were quite a number who learned something new.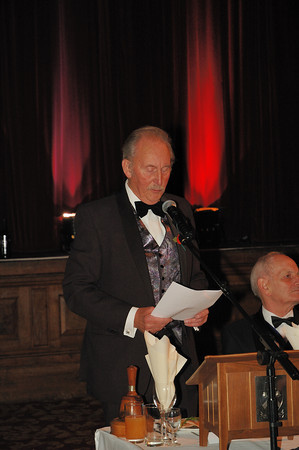 His opening words quoted Ronald Challacombe's address at the bicentenary of the school - "We thank God for putting into the heart of our Founder the will to care for his children". Johnny said that the majority of those present WERE those children, and that many more the world over by achievements in business profession or sport have etched their names in the legend that is Taunton's. Johnny then took his audience through the years by reference to the founder's fortune and the arrival and departure of the Headmasters of the school. While the fortune was gained as a "kind of licensed pirate", the booty taken, in addition to the oft-quoted 'wagonloads of silver', also contained 600 tons of cocoa. The money was used generously for good works while the founder ensured himself many a good night's sleep!
For nearly 100 years the school 'enjoyed' a somewhat relaxed and casual management style. The first Master served for 37 years before it was decided he was 'not entirely satisfactory'! The second was dismissed after 14 years for being 'absent without leave'. In the early years the boys were taught at the premises in which the Headmaster lived but by 1857 had moved to a building specially chosen for the purpose. As numbers grew this became too small and the school moved to a large room above a paint store. Next door there was a horse dealer. After 18 months the smell of boy - which must have been pretty strong - was overpowered by the smell of horse manure, and another move became necessary. The New Road site was a gift, in 1864, from the then Mayor of Southampton. In 1865 the first of four outstanding Headmasters was appointed when Penuel George Corbin took up the post, aged 22. He died at the age of 49 having revolutionised the School. A second transformation took place under the Headship of Seymour Jackson Gubb, appointed in 1892 and retiring in 1924. He it was who brought the school into a form that will be recognised by many older Tauntonians - pupils remaining four or more years at the school, the House System, Summer Camps, Annual Dinners, the Old Tauntonians' Association.
Frederick Hemmings served from 1925 to 1948. He raised the levels of sporting and academic success and doubled the number of pupils to around 800. He oversaw the periods of the school known as The Great Expansion and The Golden Age and steered the school through the Evacuation Period. From 1949 until 1969 served Ronald Challacombe, described by Spooner as A big man, physically, intellectually and morally. He took Taunton's to greater heights of higher education and university success and led the 1960 Bicentenary Celebrations. If a Head is to plan for tomorrow, his school must be run properly today. Hence the crucial appointment of Second Master. Taunton's had five outstanding Second Masters - Stanley, Stevenson, Chalk, Spooner and Colenutt - each of them a legend in his time, each in equal measure striking fear and great affection in many minds. They with scores of Assistant Masters - men of skill, devotion and inspiration - gave their careers and their love to the school. As a school Taunton's lasted for 209 years. Despite logical and reasoned argument its existence was ended by political axe in 1967. It became a Sixth Form College and a College of Further Education. In 1978 girls were admitted for the first time following the merger of Richard Taunton College and the Southampton College for Girls. The present Taunton's College is the living history of Taunton's, having been taken to ever increasing success under the guidance, so far, of five Principals (Gerald Caffrey, Rodney Lyons, Jenny Fitton, Jonathan Prest and Alice Wrighton).
During the meal the Chairman "took wine" three times. The first was with "All Old Tauntonians Over the Age of 90", which brought a single response from Denis Britton (1926-34) who had travelled from Cyprus to be present. The second was with "Staff and Ex-Staff" when we were delighted to see 30 individuals rise to their feet. The final 'call' was to "All those who had played hockey with or against or been coached by, umpired by or remotely connected with the Chairman in that sport". We exaggerate, but needless to say a great throng rose to the request.
As always, the first part of the evening ended with three toasts, taken in succession - The Loyal Toast, The Memory of Alderman Taunton and The Memory of The Fallen. The last of these was this year particularly moving and impressive. The stage curtains were positioned and illuminated so as to give maximum effect to a projected image of the Memorial Window, the original of which is at Taunton's College. With an otherwise darkened Guildhall, we stood in silence for Last Post and the recitation by the Chairman of the well known verse from Binyon's 'For the Fallen'.
Following an interval, the time allocated for which was very well observed, there came the formal toast to "Absent Friends, followed by the formal part of the evening. John Martin (1944-50) was the First Speaker of the evening. As usual, the sheer charm of the man and his ability to speak without notes ensured the attention of his audience - and he did not disappoint them. (In his hands the same anecdote he has told at a previous dinner is STILL funny!) His address was as follows:
"This is no ordinary Annual Reunion Dinner but a very special occasion. Not only the 100th Dinner, but the 250th anniversary of what was, by any standards, a very remarkable school. I always wanted to go to Taunton's. Although vaguely aware that there were other grammar schools in the town, somehow they never really registered on my mental radar. My heart was set on getting to Taunton's and, when I eventually did, it totally lived up to my expectations. This being l944, I actually went to Bournemouth School, but that was beside the point. Theologians tell us that the church is not the buildings but the congregations and the clergy. Equally, the school is not the building, but the staff. And Tauntons' has always had the ability to attract absolutely outstanding staff. There is a passage in Genesis, which says "There were giants on the earth in those days".. and I really felt that I was surrounded by giants - all larger than life characters. Time is limited but I must mention one or two who, I think, epitomised the school. Surely the greatest was Harry Spooner. If ever a man was born to be a schoolmaster, surely it was him. (Or should that be "Surely it was he? Sorry sir"! He was one who inspired a love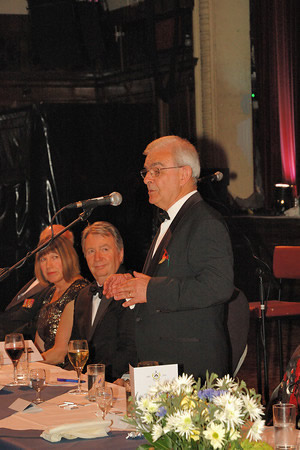 of the English language and literature in several generations of young boys. In all the years that I knew him, I can't once remember him losing his temper. He never needed to. Our greatest wish was to please him and win his approval. Occasionally faced with extreme stupidity he would resort to a kind of benign sarcasm, but it was always kindly done. An amazing man! And, of course, Joe Chalk. When a few years ago I had the honour of being Chairman of this Dinner, I remember that I said, "There will be those here this evening who never knew Joe Chalk. But he was to Taunton's boys what Ivan the Terrible was to the Russians!" It struck me afterwards that my words were extremely unfair. Unfair to Ivan the Terrible, that is. Could HE have stood on the stage and controlled several hundred small boys with a flick of an eyelid? He absolutely petrified us without saying a word - just by standing there and rotating his signet ring? Ivan the terrible may have controlled Russia, but 4B2? I think not. But beneath Joe's formidable able exterior was an extremely kind man and a brilliant maths teacher. The one who made the greatest impression on me was Mr Challacombe. You may have noticed that whereas I spoke of Harry Spooner and Joe Chalk. I automatically say Mr Challacombe. All of the other masters had nicknames or were referred to by their Christian names, but never Mr Challacombe. I don't think that it occurred to us that he actually had a Christian name. As for giving him a nickname, it would have been like the Heavenly hosts giving God a nickname. Many years after I had left the school I would meet members of the staff socially and was always quite comfortable being on Christian name terms.
Whenever I met Mr Challacombe, I would instinctively stand to attention and call him 'Sir'. Whenever I think of Mr Challacombe, I think of Daniel O'Connell's description of Sir Robert Peel. His smile was like the moon shining on the silver plate of a coffin. Not that Mr Challacombe smiled all that often and when he did you felt that his heart wasn't really in it. My recollections are of a time when young members of the staff who had gone to fight in the war were returning to the school. One was Ted Colenutt, who is one of the main reasons that so many are here this evening. There were masters a Taunton's who were regarded with respect, and there were those who were regarded with affection. But there were just a few who were regarded with both respect and affection and Ted was one of them. But the great thing was that there was this sense of permanence and continuity. Taunton's had always been there and it always would be there. We might see change and decay in all around, but Taunton's would go on for ever, a rock in a shifting world. Of course, we were aware that the government of the day was making threatening noises about abolishing Grammar Schools, but then they were making threatening noises about abolishing the monarchy and nobody took it seriously. But then it happened. We woke up one morning to find that grammar schools had been abolished and that Taunton's School no longer existed. It was like bereavement.
As I listened to my friend Johnny speak about the history of Taunton's, I realised that he was using exactly the same words that I had intended to use. I too, consider it to have been one of the greatest acts of political vandalism in my lifetime. Grammar schools were the flagship of the education system, whereby a boy or girl could come from the most deprived and impoverished background (as many did at Taunton's) and be assisted to achieve their full potential and go on to great things. We all saw it happen. At the Dinner that year, Gerald Caffrey, the then Principal, made a very good speech, explaining and justifying the change. He was speaking, however, to an audience of mainly ex-pupils of Taunton's School and we were not convinced. There was an air of simmering resentment in the hall. There was no going back, of course, and to his eternal credit - often against the odds - Gerald turned Taunton's into a successful establishment of its kind. He also worked hard at improving relations and forming links between the College and the OTA. When he retired, things went sharply into reverse. His successor on first meeting a representative of the Old Tauntonians, no doubt in an attempt at humour, commented, "Oh you are those people who spend their time looking backwards". Whatever his intention the remark seemed to summarize his attitude to the OTA and he appeared to resent our existence. There arose a strong feeling among a number of people that the Old Tauntonians' Association should break all links with the College. This was, in fact, formally proposed at an Annual General Meeting, although not carried. One of the purposes of the Association is to promote links with Taunton's and it was hoped by the majority that students might somehow be persuaded to join the OTA. Indeed a number did, two of them with some distinction. Many of you will remember the late Zoe Morell who was Chairman at a London Dinner. And we still have our excellent and hard working Dinner Committee secretary Martin Rowe. He has held many offices in the Association and is, to a great extent responsible for this evening's function. A change of Principal came as a breath of fresh air to the Association. The blessed Jenny Fitton (who I am delighted to say is here this evening) came into our lives. And Jenny made it clear from the first that she was determined to build bridges and strengthen links with the OTs . She invited groups of us to meet the Students Council; we were encouraged to participate in the Open Days, Presentation Evening and other functions and there was a palpable change in the relationship.
When we learnt that Jenny was retiring, there was a real fear that this new warm relationship might be at risk. But we needn't have worried. Jonathan Prestt (who I am happy to say is also here this evening) took up where Jenny had left off, being just as concerned as she had been to strengthen ties. Indeed, it was during this time that an Old Tauntonian became a governor of the College. When we learned that Jonathan was leaving, once again we were concerned. What would now happen to the College/OTA relationship? Good News! In fact very good news! We learned that the new Principal was an old girl of the Girls' Grammar School - quite possibly one of those girls that we had whistled at and lusted after whilst we cycled up Bellemoor Road! Mind you, I say lust, but lust was somewhat different in those days than today. These were innocent times. Just holding a girls hand in the cinema was considered a major achievement. And in any case, the shadow of Miss Platt hanging over the grammar school rather tended to discourage too much in the way of lust. But I am happy to say that Alice Wrighton has more than lived up to our hopes and expectations. The strong ties between the College and the OTA, started by Jenny, carried on by Jonathan, have gone from strength to strength. And I think it's true to say that we now accept the fact that there has been a process of evolution. What started as a trade school for boys destined to go to sea, after numerous changes became a grammar school and has now become Taunton's College. And just as Taunton's School was a remarkable school, so Taunton's College has become a remarkable college. Taunton's School, as I observed, had the ability to attract outstanding staff and so it has the College. And what's more, it's our college. We take a vicarious pride in its achievements. And we thank you Alice and Jenny and Jonathan and all of your staff for all that you have done to carry on the Taunton tradition of excellence. And for all that you have done to strengthen ties between the College and the Association. There was a time when this next toast had a somewhat hollow ring, but no longer. Now I am very happy and indeed proud to propose it. Ladies and Gentlemen.....The College.
Alice Wrighton responded by proposing the health of The Old Tauntonians' Association. This was a speech in which no doubt was left of the strong bond that exists between the College and the Old Tauntonians'. It was warmly acknowledged, welcomed and requested. Alice started by thanking John Martin for his kind words and the Old Tauntonians' for their hospitality - this on behalf of all the staff and students present. She went on to say, "Here we are - the big one! What a brilliant job the organisers have done. Who was it who said to me at last year's dinner that they were concerned about getting enough people to fill the Guildhall???" (And, indeed, there were some of us who dared not believe that we would have the number present to do that). Alice added special thanks, sadly posthumously, to Charlie Marten, who before he died arranged to pay for four College Students to attend the event. She was pleased to see Jonathan Prest and Jenny Fitton at the dinner, celebrating along with other former members of staff: She extended thanks to them, from all at Taunton's, for the contribution they made to the ongoing success of the College over the years.
"Despite all the challenges of the job - and they are considerable - I have never, for one moment, regretted the move I made two and a half years ago. I am enormously proud of what we do at the College. It's very hard work, but it's a massive privilege to be doing it, and to be part of the ongoing history of Taunton's School and College. I am also very proud that Taunton's School has become a Sixth Form College renowned for its approach to inclusion and equality of opportunity. 40% of our students come from priority neighbourhoods - nearly 600 in total. We do brilliant work with them and there is so much to be proud of: students from poor backgrounds getting in to the most selective universities, including Oxford and Cambridge, students arriving here with few qualifications, and leaving with what they need to support a successful future. Do come and see what we do - you are welcome to visit any time and meet students and staff." Alice stressed that she couldn't do what she did without a fantastic team of colleagues, without the fine young people who are our students, and without the support of their families and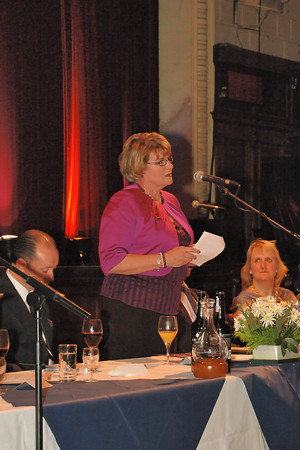 of the wider community. We know we are valued and respected by our community: we are proud of our City - over 80% of our students live in Southampton - and we value our local partnerships and our supporters. All of the team at Taunton's are very grateful to the OTs for all the moral support you give us and to David Defty for all the work he has done and support he gives us as a governor. The Dragon's Den event last summer was brilliant, and I hope only the first of many more practical links we will build in the coming years. And what can I say about Ted? Did you see those pictures of us cutting that cake in the summer - no, not a wedding - a garden Party! Seriously - Ted is a great friend of the college. He hasn't lost his ability to inspire young people: those of us who were at our College Celebration Evening last December - and that includes Ian Murray, Editor of the Echo - who is with us tonight - know that he stole the show when he spoke so engagingly to the student audience when presenting the OT awards. The students loved you, Ted, and so do we all.

Alice then spoke of the present day Taunton's - "a very significant community of very fine young people - about 1400 of them - supported and led by a team of able and dedicated staff. A thriving Sixth Form Academy for Gifted and Talented Students, including the International Baccalaureate, the School of Music, our Sports Academy, alongside growing and increasingly successful Science and Maths provision. There is, as ever, much from the last year to celebrate - too much to list in the time I have here. You all have copies of the very latest News from Taunton's' on your tables. Have a look at the range of activity, at the news stories of continuing success - brilliant." She then proudly declaimed a succession of activities - academic, sporting, cultural, theatrical, musical - in which National and Regional successes had been achieved. Not the least was the variety of musical activities and events in which students had taken part. These included Rock Music groups at Glastonbury and on the Isle of Wight: traditional Music ensembles performing at national level in the National Music for Youth Festival in Birmingham. Six students had gained places at top Music Colleges : there had been two Oxbridge Choral scholarships and an amazing community production of Britten's Noye's Fludde . One name stood out as having made an enormous contribution to the Taunton's musical scene since 1987. The 2011 College Christmas concert will be Jane Higgins last one, for the marvellous Jane retires this year. She is going to be hugely missed having built up music at Taunton's from a tiny provision then to a centre of excellence now. (All those who attended the Thanksgiving Service at Highfield will remember the emotional impact of Jane's unaccompanied choir when they sang Beati Quorum Via). "What we have achieved, what we are achieving, is about having high expectations - no - stronger than that - it's about being massively ambitious for our students, for our staff, for our college, for our community. It's about building confidence and high aspiration and countering those negative messages out there about the value of education and skills development in a time of economic difficulty. It's about values - as I think it always has been, way back to 1760 when Richard Taunton set out the purpose of his school. And it's about community, not just individual institutions. The things that give me the biggest buzz of all are seeing our Maths students going to the local primary schools to work as mentors in order to support those schools' efforts to improve children's grasp of Maths, our Music students (and ex-students!) and staff working with young children on a very ambitious project to put on a one night performance of Noye's Fludde - Britten's opera - at the Central Hall."

Alice continued by saying that that the only reason she was doing what she did now was because there had been people along the way who were ambitious for her when she didn't have the confidence or self-belief to be so. "That's our job, working with young people - and especially at a time of economic downturn - to give them hope, determination, self belief and the motivation to work really, really hard. And isn't that what our history is telling us we should be doing? 250 years of history - wars, recessions, all sorts of challenges - Taunton's is still here, supporting young people to success." "So what about the future? Last year I said we had to pick ourselves up, dust ourselves off, and start all over again! (But with no money - and an £800,000 bill for costs to be absorbed into our accounts) . And this we are doing, despite the continuing tough competition from other colleges, and school sixth forms. Despite setbacks, we insist on being hugely ambitious and optimistic about our future. We must be. The young people and families in Southampton and South Hampshire deserve it. The College (with its great heritage) deserves it. More than ever in this 250th year we need your help and support. We are determined to build on the strength of our current provision, and to achieve recognition as the best in the field, not only for 6th form college education overall, but in specialist areas which are so important for us, for our City and for our future national economic success - Music, Science, Technology and Maths, Sport, Languages, Business. There are loads of financial and other challenges ahead of us. The needs and aspirations that the recent building project was designed to address are still there.

I am drawn back to Richard Taunton and the source of funding for the new school back in 1760. We still need wagon loads of silver and gold and I hope you don't mind if I write to you after this dinner to tell you all a bit more about some of our 'massively ambitious' projects. We have had so much support and encouragement from the OTA, for which we thank you. I do hope to build on that and, by forging closer links around some specific development projects, encourage college leavers to become OTS themselves. It's a case of 'onward, ever onward' - making Taunton's more and more irresistible, building on what we have, and never allowing ourselves to be complacent or to assume it can't be done because times are hard. Listen to what the School inspectors way back in 1938 said about the school. Think about that date - just about to go in to devastating conflict for the second time in 20 years. These were their general conclusions: 'The school is well housed, well organised, satisfactorily staffed and assured of a good supply of boys who are fully capable of deriving and using the benefits of Secondary education, including the opportunity to proceed to a University. All this may be said without any misgiving that those in authority within or outside the walls off the School will rest content with the very real success which has so far been achieved.' I can assure you - we will not 'rest content with the very real success which has so far been achieved' at Taunton's College. Old Tauntonians, you are very much part of the College, of its past and of its future".

Cometh the hour, cometh the man. Not since its early days, when the Headmaster chaired the event, had an Old Tauntonian been selected on three separate occasions (1958,1984 and 2010) to chair the dinner. On this very unique occasion there was only one person for that honour - Ted Colenutt, introduced by Ron Allison as only he could have done it, rose to great applause to deliver a speech full of anecdote and nostalgia. He got it absolutely right! In 1946, following demobilization from the Royal Artillery, Ted visited the school to renew old friendships and acquaintances. The visit ended with him being offered a temporary job, teaching geography until the end of term - which he accepted. At he end of the temporary appointment a permanent appointment was offered and accepted. The worn out phrase 'The rest is history' comes to mind - but what a history it turned out to be. Thirty eight years of meritorious service lovingly given - and lovingly accepted by colleagues and pupils alike. In 1947 Jimmy Gibson and Don Gray joined the staff and almost immediately there formed a trio of three musketeers, out to enjoy life at Taunton's and in general. Ted describes the friends as gay young bachelors (the use of the first word being as it was originally intended and not as the abomination it has come to be). Jimmy had a small Austin 7, the battery of which was under the front passenger seat. Either the seat or the battery was not greatly secure. When the car was turning a corner its connectors came into contact with the seat frame, quite literally causing sparks to fly. A bit of a turn-off for those unused to occupying that seat. One evening a lift was offered to Mr Hemmings who, being Headmaster, sat in the front passenger seat. During the journey an emergency stop became necessary. Jimmy slammed on the brakes only for the insecure seat to part from its moorings, topple backwards and flip the unfortunate Head into the rear of the car. The pulling power of the vehicle was demonstrated on a journey towards West End. At Thornhill there is a long steep hill. As the incline steadily manifested itself the car gradually slowed - to the point when a Dalmation dog, trotting in the same direction, overtook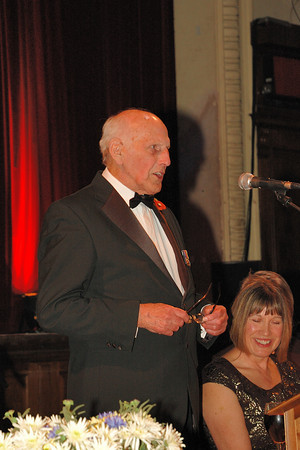 it. Ted gave a glimpse of staffroom life when telling of the marking of essays during non-teaching periods. 'Dick' Spooner (known as 'Harry' only to the boys) had set an exercise whereby the boys were asked to write sentences using certain words and illustrating their meaning. The word 'frugal' was one. A boy had written: "A knight found a maiden tied to a tree. "Frugal me, frugal me" she cried. So he did, and they lived happily ever after" The imagination boggled. It transpired that, according to the boy concerned, his dictionary had shown that the meaning of frugal was 'spare'. Enough said, perhaps!

Ted talked of his career. His methods were successful and he had been known to beat Cleeve Clowser in both O and A level in the results column. But he had his failures - some boys either could not "catch on" to geography. He would mention no names - although that of Stuart Wilson came to mind! A favourite lesson among his charges was on Volcanoes, Glaciers and Monsoons. He himself had a passion for sketch maps, drawn on a blackboard with coloured chalks. Social behaviour in and out of school were different in past days. Unlike today's College, Ted said, we had to - and could - make more effort at form room discipline. He had heard of masters throwing chalk at disruptive pupils, while one actually threw six-inch long, inch-thick blackboard dusters at trouble makers in the back row! (He revealed no names though many of us know who they were). Half the fun of teaching was from After-School Activities. Ted's great success was at Hockey - training, skills and producing teams. Many players came under his jurisdiction, although there was a golden period of three seasons when the first team, captained by Alan Strowger, remained unbeaten. Some of the names were quoted 'off the cuff' ' Derek Jackson, Steve Dunford, Chris Satterly, Phil Munson, Doug Spincer. Ted was proud to have been the first Taunton's hockey coach to produce a Colts team that had beaten their equivalent at Canford School. He had been a Founder Member of the Old Tauntonian Hockey Club - with Ken Wootton, Frank Bradley and Arthur Spencer - and played with much enjoyment for various OT sides for around 40 years. He would often umpire 1st XI matches on a Saturday morning and play with the team in the afternoon. It may, Ted said, come as a surprise to many that he had a Journal "write-up" for his skill at FOOTBALL. Having played in a Staff v School match, with half the school on the touchline, the result had been a humiliating defeat for the staff - but in 1954 came a personal triumph. Ted was injured and could not play in the outfield - so played in goal for The Staff v Barry Bedford's XI. The Journal report said:- "The Masters XI played pluckily but was comfortably defeated 4-0. The game was notable for a fine display of goalkeeping by Mr Colenutt. The fame of his saves and his daring interceptions reached Lancaster Gate". Next morning the first lesson was with an O level geography set in a corner room near the Art Room. Ted was applauded by the boys as he walked in - "One of the nicest things ever to happen to me". At Break a telegram arrived at the school addressed to Ted; "Report to Wembley Stadium at 12 noon on Saturday. Bring your own cloth cap. Walter Winterbottom"

At this point Ted paused in his address and then said, "It's worth asking why YOU have come here tonight?" Is it loyalty to the School? A hope that you will meet old fiends or teammates? I know that at least one character is here because he remembers me throwing him out of the Junior Library when I was a Prefect - in 1937! You will have your own individual memories of your school life, but many will recognize this list - New Forest Camps, 'Duff', Pottery dig, Treasure Hunt, Music and Operas - the debt owed to Doug Collar, Henry Jenkiins and Ian Carswell - Plays - Ken Sidebotham and Phil de Gruchy - The Huts - the years spent out there in boiling heat or freezing cold. It was like teaching in a tunnel - Geography Trips - with Bryan Stevenson.

"Now look around you at this gathering. In the GUILDHALL! 450 of us! Who would ever have thought we could put on a show like this? I'll TELL you who!! The Dinner Committee - with the vision of its Chairman, Roger Parsons and a willingness to work very hard to plan and organize and communicate in order to reach as many of you as possible. I would like to personally toast Roger and ask the rest of the Dinner Committee to stand up and take a bow". (Which they did to rousing applause) Ted drew to a close by saying: "I've had a lucky life. As a boy at Taunton's I was inspired by Harry Spooner and Willy Watkins. When a master I owed much to Ronald Challacombe. I'm grateful for the support received from the Staff Room when I was Second Master of the School and as Vice Principal when we changed to become a VIth Form College in the late '60s. We HAD to make the new system work and from our foundations grew the College as it is today. I'm grateful to have my daughter, Liz, here tonight as my escort. I appreciate all the compliments I have received but find myself embarrassed by them. You have paid me a great honour this evening and it is one that I shall always treasure" He sat down to a standing, prolonged and deserved ovation. We had been listening to one of THE great Old Tauntonians.

As ever, but I think with more meaning than usual, we finished with Auld Lang Syne. It really had been a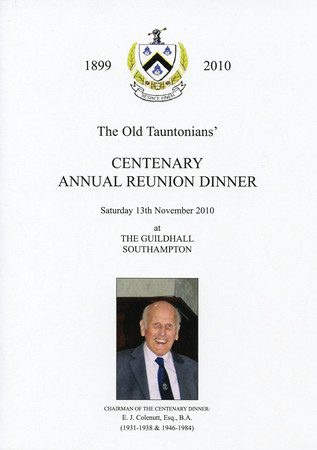 most wonderful evening with representation of School and College, Staff, Pupils and Students. The Guildhall looked magnificent with the tables 'dressed for dinner'. The superb exhibition of memorabilia and photographs, covering the history of Taunton's, that was set out around the room, was the enormous success - but more so - that it had been at the Summer Garden Party. We again heartily congratulate and thank Annelise Miller, Kathryn Kemish and colleagues for their part in making the 100th Reunion Dinner what it was. If there were regrets it was that the sheer number of old friends and acquaintances present made it impossible to visit all the tables and groups that one would have wished to do. Your reporter saw (from afar) a host of people, intending to talk with them at some time during the evening. He talked to some, briefly shook hands with a few, waved to a few more and totally missed out on most. And this was, we found later, the story of the evening for many of us. While, during the evening, the two committees were thanked and congratulated for their efforts one feels that the members of those bodies would, in turn, wish to thank and congratulate all those who attended and who made it their business to gather together groups of their school and college contemporaries in such numbers in order to remember and celebrate the glory of Taunton's.