Old Tauntonian & Old Bournemouthian Golf Day 2011 24th May 2011 at Dibden Golf Centre
As far as the weather goes, recent years have been decidedly "iffy". This year the day took some time to decide what it would do. Fortunately the verdict was in our favour and we enjoyed a lovely afternoon in the sun. We fielded 31 golfers. It should have been 32 but a truly Senior Moment rendered us one short. Bar one, all who had said they would be there reported their presence. On the tee the starter delayed the start of the fourth group hoping that what we supposed as traffic difficulties would allow the missing player to arrive before our "time slot" had expired. When it became crucial we phoned the home number to establish when he had set off. To our surprise our man, in cheerful voice, answered. "Hello," we said, "We're all ready to go!" "Go where?" was the reply. "To tee off", we said. "But it's NEXT week!" came the response. There followed a moment of obvious incredulity when he realised that 31 others had not turned up a week early. Sadly, there was nothing to be done. We look forward to seeing him next year!
On the course we had 22 Old Tauntonians and 9 Old Bournemouthians. The OBs numbers were lessened by the absence of 5 of their regulars. Four of our total, John Knight and Polly Perkins of OBs and Tony Herding and Ted Munday of OTs showed both courage and determination by overcoming recent severe health problems and completing 18 holes of golf. We welcomed one newcomer to the event: OT Bob Davenport joined us for the first of what we hope will by many times in the future.
At the evening meal we were joined by Ted Colenutt (President, OTA), Roger Parsons (Chairman OTA) and Bob Newell (Secretary OTA), together with Eric Godley and Paul Skates. Ted Colenutt presented the prizes to the Old Tauntonian players.
Winner of The John Rush Trophy:
Ted Munday (28) - 39 points (on count back)
Runner Up:
Gus Smith (22) - 39 points
Third Place:
Eric Morgan (22) - 39 points
Winner of The Bournemouth Seniors Trophy was
Gordon Prosser (19) - 35 points
Runner Up
Alan Coul (19) - 34 points
Third Place
Ray Hunt (26) - 32 points
Winner of Pomeroys Cup (Highest Score of the Day)
Ted Munday
The event is enhanced by the contribution of a number of people. Grateful thanks are offered to:
Roger Knight - for the John Rush winner's memento tankard
Ted Colenutt and John Knight - for their generous donations towards the day
Ted Munday for raffle prizes
The Old Bournemouthians, who presented a bottle of champagne to the organiser
Eric Godley for collecting the score cards
Steve Knight for collating the scores
Bob Newell for the photographs
The Catering Manager, and her staff, for their help and being so accommodating with special dietary requirements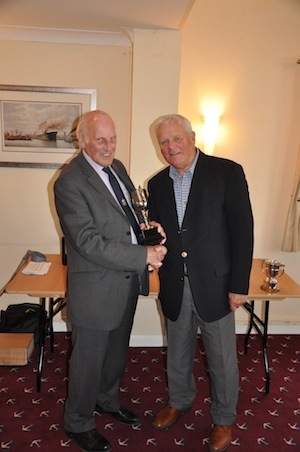 Ted Colenutt and Ted Munday - double trophy winner

The Old Tauntonian players were:

Clive Amy - 36 points (16): Peter Bassil - 31 points (18): Ken Boundy - 32 points (17): Ray Colmer - 31 points (20):John Daniel - 35 points (14): Bob Davenport - 30 points (27): John Gannaway - 34 points (23): Paul Gannaway - 33 points (20): Norman Hardisty - 35 points (21) : Tony Herding - 30 points (28): Colin Howe - 35 points (15) : Stephen Knight - 38 points (15): Pete Muddiman - 36 points (9): Ted Munday - 34 points (28) : Colin Ray - 38 points (26) : Tony Robinson - 34 points (24) : Paul Skates - 34 points (21): Gus Smith - 31 points (21): Harry Tollerfield - 37 points (10) : Ralph Turner - 37 points (18): Nigel Ward - 35 points (8):

This is the 17th year in which the two associations have joined each other for a round of golf. The initial friendship between the two schools came about because of the evacuation period and its continuation has been through the two alumni associations. The day is the essence of why those associations exist. It brings an opportunity for the meeting of old friends in the very best of atmospheres, some not too serious golf, a lot of laughter and quite a bit of nostalgia.. For some time I have been suggesting that for the sake of continuity it is time for someone to take over the running of this event. I am delighted that we have an Admirable Crichton in our midst. A past winner of The John Rush Trophy - and thus an Old Tauntonian - has volunteered to stand by for the moment when a takeover becomes necessary. He is Colin Howe and I most gratefully thank him for his gesture. I know that when the time comes supporters of this event will extend to him the same kindness and courtesy that has always, and in abundance, been shown to me. Each year I say it, basically because it needs to be said! Without the support of the players, many of whom have been coming for years to this day, the event just would not take place. For their humour, their willingness to travel, their interest and their incredible loyalty I offer, once again, my grateful thanks.

Johnny Bathurst