101st Old Tauntonians Annual Reunion Dinner
Such was the enormous success of the 100th Annual Dinner at the Southampton Guildhall last year that it was decided by the Dinner Committee to plan to accommodate the increased number that it was hoped would wish to attend in 2011. The venue selected was the Legacy Botleigh Grange Hotel at Hedge End, Southampton, located in a magnificent setting and capable of seating 200. Perhaps it was wishful thinking. Perhaps we were persuaded that the enthusiasm of the previous year would "spill over" to another year. Perhaps it was, for a number of people, just a bit too far out of Southampton. Perhaps, perhaps…….but when it came to reality the hoped for numbers did not materialise. It was, of course, an unfortunate year economically, travelling costs rocketed and it was not an anniversary year for the Association. Having said that, we had 121 Old Tauntonians' and guests at the event and, from the comments and letters we received, it was much enjoyed.
The Chairman of the Dinner was Jenny Fitton, (Principal of Taunton's College from 1997 till 2005) who was accompanied by her husband, Ray. The guests at the top table were The Mayor and Mayoress of Southampton Councillor Terry Matthews and his wife, Lesley, Mrs Alice Wrighton (Principal, Taunton's College), John Davis (Old Bournemouthians'), John Mist (Old Edwardians') and Jem Musslewhite (Old Symondians'). Old Tauntonians' accompanying our guests at the table were Martin Rowe (Secretary, Dinner Committee), John Martin (MC and Toastmaster) and John Bathurst (Proposer of the toast to The College). Guests from the College Management team were Matt Atkinson, Glenda Gardiner while special guests from recently retired staff of the College were Jane Higgins and Gill Rock.
Prior to the start of the meal we were entertained by the music of Karla Powell, a brilliant music student from the College and currently studying at the Guildhall School of Music, who played her oboe as guests entered the dining room. There was also an interesting happening during the first part of the evening. Gill Rock (widow of Eric Rock) and one-time member of the administrative staff of the College, had brought in a large brown paper parcel, carefully wrapped with tough string. She told Johnny Bathurst its history and was thereupon invited to share the story with those present. So up to the front Gill came, and "The Parcel" is featured in a separate article elsewhere in this issue.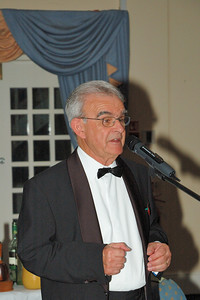 John Martin (1942-50) opened with a general welcome to all present. He explained that he was -"for one night only"- undertaking the duties so successfully performed in recent years by Ron Allison. Ron (who was 'in the audience') was about to undergo a hip replacement operation and John expressed the hope on behalf of all present that this would be a complete success.
During the meal the Chairman twice "took wine" with those attending. The first was with "Ex-Colleagues at Taunton's College". The second was with "All Those Here Who Really Don't Like Hockey!". This was welcomed by a round of warm applause. It was, one feels, inevitable that there should be some reaction to that and, sure enough, it came as an unsurprising request from Old Tauntonian President Ted Colenutt. Those who wished were asked to join Ted in a toast to "Those who DID like Hockey !" (Surely those were not boos we heard as the toast was accepted by, one has to admit, a minority of those present?) The first part of the evening ended with the three toasts traditional to the dinner and taken in succession – The Loyal Toast, The Memory of Alderman Taunton and The Memory of The Fallen. There was no grand stage setting this year and for the Memory we had to be content with a projected screen image of the Memorial Window. There was no light-dimmer facility, either, but the overall effect was as poignant as ever when we stood in silence for Last Post and the recitation by the Chairman of the well known verse from Binyon's 'For the Fallen'. Following an interval came the formal part of the evening, starting with a toast to "Absent Friends". Announcing the toast, John Martin particularly recalled Peter Munro. Peter, who died a few weeks earlier, had been Acting Principal of Taunton's College and President of the Old Tauntonians' Association. He had given magnificent service to Taunton's, Taunton's sport and Hampshire Football. (An obituary appears elsewhere in this issue.)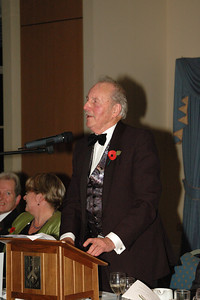 John Bathurst (1941-45) was the 'First Speaker' of the evening. The task is to lighten the mood, formally welcome the guests and propose a toast to The College. Time is 'of the essence' on these occasions and, as we were by then somewhat behind schedule, he was urged by some to get it done in ten minutes. John, on his own admission, frequently uses 200 words when 20 would suffice, so it was an enormous ask. To those who felt the time he took (he reckons 15 minutes or so) was excessive, he offers his apologies. He thanks his single loyal fan who, the next day, 'phoned to say "Well done" The guests were mentioned individually because "…. each, in his or her own way, represents an important part of Taunton's history, whether the Civic Authority, a connection with School or College or one-time sporting adversaries" One name was omitted from the group welcome because a Very Special Welcome was reserved for a lady "to whom we sadly say farewell". John said she left the College after many years of exemplary and dedicated service. She epitomized the devotion of many such Tauntonian teachers and her tremendous record of musical success in the playing and singing of music had made Taunton's a watchword in that field. She was, of course, Jane Higgins, whom John invited to stand to receive a tribute of warm and sustained applause. John said he had the pleasure to propose the health of the College on an evening when, for the first time in the dinner's history, there was a lady Chairman of Dinner and a lady Principal of College. Jenny was Principal in his time as Secretary of the Association and he could not have wished for a more delightful person with whom to liaise. She was "a bit of fresh air" and they were able to establish a pleasant and positive working relationship. That relationship had been fostered ever since. With the arrival of Alice Wrighton further initiatives had been put in place aimed at helping both College and students. John mentioned the letter from Alice addressed to Old Tauntonians in general in which she said that the College was in the process of refining objectives so as to best utilize the funding and expertise available. So much was needed in so many areas but possible ways in which help could be given were bursaries, grants, and support in the form of mentoring and guidance. He asked Alice, when she was in a position to do so, to tell the Association specifically in what ways the Association may be able to help. He said, "We do not have the wagon loads of silver that Richard Taunton was said to have at his disposal, but DO have a chap called David Bryett, who is not only our Treasurer but also runs a fund raising scheme called the 100 Club". John went on to tell of the hundreds of pounds raised by the scheme to help the Association fulfil its objectives. These included College activities such as the building of classrooms in Tanzania, the sponsoring of Karla Powell, and annual awards to students in Arts, Social Science and Science Faculties. Old Tauntonians had the interest, the readiness to help and, he hoped, the will to support the plans for the continuing success of the college that bears the name of Taunton and the tradition of excellence it carries.



Alice Wrighton responded by proposing the health of The Old Tauntonians' Association. On behalf of herself and all from Taunton's College present she thanked the Old Tauntonians' for their hospitality. It was, she said, particularly pleasing to be "up front" with Jenny. "The day has finally come – a triumph for womankind – two female speakers at the top table". She remembered Jenny at meetings and conferences, arguing with passion about the challenges that city based sixth form colleges faced – including unfair competition from those outside the city who poached students! (She was also the person who, at an important meeting, spectacularly tipped an entire cup of tea all over Jenny's new boardroom table – but hoped and expected the incident had either been forgotten or forgiven).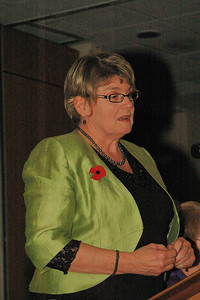 Alice paid tribute to Peter Munro. She did not know him personally but the warmth of comment from her colleagues had made her realize that the man was a very special person. What came through was not just his charm, wit and larger-than-life personality and his care for others, but his skill in getting the most out of young people and his capacity to gain the attention of young people just be entering a room. His belief and commitment to the experience and progress of a student was always his main concern. "I do hope that Peter would be proud to know that those factors continue to be at the heart of what we do." "Each year I acknowledge the hard work and commitment of staff at the college. We have achieved a huge amount together in the last year. The scale of necessary and difficult change has meant that strong teamwork and mutual support have been critical to our success. It is NOT about me. It is about collective effort skill and knowledge of my senior team and of all the teams within the college.

Substantial savings have been achieved through getting leaner in terms of management structure and business support. However, we had to pull a £1.6 million refurbishment project out of the hat (due to the usual tight government timescales imposed) between May and July, including design, tendering and procurement - work which has to be completed by March 2012…….or we lose money. The project concerns heating, roofing, new windows, refurbished Science facilities, site safety works in the car parks, faster and better IT facilities. This is great, of course, but at the same time we were striving to raise student achievement - yet again. We succeeded, achieving our best results ever in A Level this summer. It does not just happen! It is about being unashamedly ambitious for our students, our staff, and our college. It is about high standards, high expectations, and hard work - a very simple message for all students, regardless of their background and ability." Alice declared she is "more vocal than ever in my efforts to challenge those who like to talk gloom and doom scenarios about the future for young people. That is not how to motivate them! And to say ' this is the worst time ever to be 18' must be refuted." Historically, she said, it was not true – although to be in a situation where 25% of 19-25 year olds are unemployed does not make it at all easy. In such a situation, what better reason to pursue the best possible educational qualifications? There were some really tough things that had to happen this year - one being the decision to remove the IB from the curriculum offer. However, with that came a new focus on what Taunton's Sixth Form Academy for Gifted and Talented students should be all about. The thinking has been inspired by recent political debate about the use of privileged networks to support career development. The College response has been such there is a commitment to ensure that no student should miss out through lack of appropriate contacts, experience and challenge. The Academy has been relaunched with a stronger focus on - Building personal confidence and preparing students for future careers in the most competitive fields. The academy has a pool of talented young people who have a huge amount to offer the local community and economy. - Ensuring that local public and private sector businesses should have the opportunity to get to know them and to tap into this pool of exceptional talent. Alice went on to say, "If you think YOU have something to offer here, PLEASE TELL US!"

Reporting on sporting success, Alice told us that 23 students went to British Colleges Finals last year, all but one coming back with a medal – and gold ones at that! Appropriately for the evening, girls had out done boys during the year. But the sporting tradition remained the same – it is about Taunton's – and Howard Teal, former Head of Sport at the College received the Michael Austin Harlick medal at the Hampshire Sports Awards for his contribution to sports education and community work. Alice praised her students for their voluntary and community action activities that took place alongside their studies. Many of them have to overcome challenges in personal and family life on their way to their high level achievements. The humbling story of Pippa Haines, who won the Radio 1 Teen Award, was an example. In addition to all that has had to be done in a difficult year the College underwent an OFSTED inspection. The observations were very encouraging, some of them being: - "…..committed to the pursuit of excellence" - "…a secure and harmonious environment in which many students thrive" - "….a culture of high achievement is promoted" - "….Teaching and Learning are good. Teachers are knowledgeable and passionate about their subjects" The overall quality of provision was judged as Good. Alice ended by saying: - "I won't lie. Times are tough for all of us. I know that the future of my college is about being determined and being daring – doing things differently if necessary. But above all maintaining our belief in the value of the work we are doing, and our commitment to a set of values that is about challenging, supporting and inspiring all our young people to work hard and become the best that they can possibly be.. I think that all fits very well with the tradition Richard Taunton set up 251 yeas ago"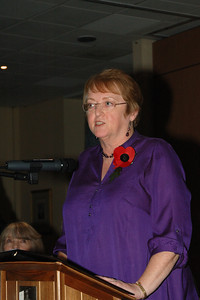 Jenny Fitton was "billed" to respond to the toast, proposed by Alice, of The Old Tauntonians' Association. One was pretty certain that we would hear something of the College during her time there, possibly a little of the background leading to her appointment, maybe something of what she and Ray have done since they retired? On reflection, and knowing her as we do we should have known better! On rising she immediately told us that she felt unable to comment on either her time at Taunton's College, the people on its staff or the members of The Old Tauntonians' - on the grounds that if she did she would probably be sued! Further, not having attended Taunton's School she could not say anything about that either! So in the words of Max Bygraves, but not in his accent, she said, "I'm going to tell you a story". It was to be a story of personal memory and meaning. It was set in the year 1914 and about two ships, one on which her beloved grandfather was a crew member. There followed an account of two passenger liners, one British the other German. The ships had become "armed merchantmen" on the outbreak of hostilities. In an attempt to disguise their appearance in order to avoid their enemy – in the event, strangely and bizarrely successful – each ship succeeded. The consequence was an armed engagement fought off the South American coast. The story was illustrated by screened photographs and drawings all the while accompanied by a carefully and expertly delivered commentary from Jenny. There is no doubt that her listeners were surprised, for this address at an Annual Reunion Dinner must have been a "A First" in its history. Having very quickly accepted that they were not going to get what they expected her listeners soon settled down to listen. What they heard was a true and fascinating story, full of action and suspense. The telling of it was extremely professional and the effect on the audience (despite the lateness of the hour when Jenny was obliged to start) interesting to observe and very well received (We may well include it in an edition of News & Views subject, of course, to the permission of its source!).
The evening ended, as usual, with the singing of Auld Lang Syne. It could not have been expected to outdo or even match the event of 2010, for that was second to none and never to be repeated. But it will remain unique in the history of The Dinner for several reasons: - The first time two ladies have been the principal speakers - The first time the event has been held outside the City of Southampton - That unusual and fascinating address by the Chairman of the Dinner
Johnny Bathurst