102nd Old Tauntonians Annual Reunion Dinner
Well, you never can tell when Old Tauntonian dinners are concerned! After each function the event is discussed in detail. Comments are made on what are perceived to be the good and not so good features of the evening and decisions are made aimed at making improvements for the following year. The major change from the previous year was a move back to Southampton, and the Southampton Park Hotel, one we hoped would ease the travel arrangements for those from both within and without the city. One factor we could do nothing about was the economic situation, which meant that both we, and those who might in other circumstances have attended, were obliged to look very carefully at the costing of the evening. A number of those we have regarded as 'regulars' were unable to attend: regrettably, the guest list was reduced: sadly, some were no longer with us. The consequence was that the total number in attendance was 98. Those who were not there missed a treat! From all quarters we received complimentary comments, one perennial attendee saying it was "…one of the best I've been to!"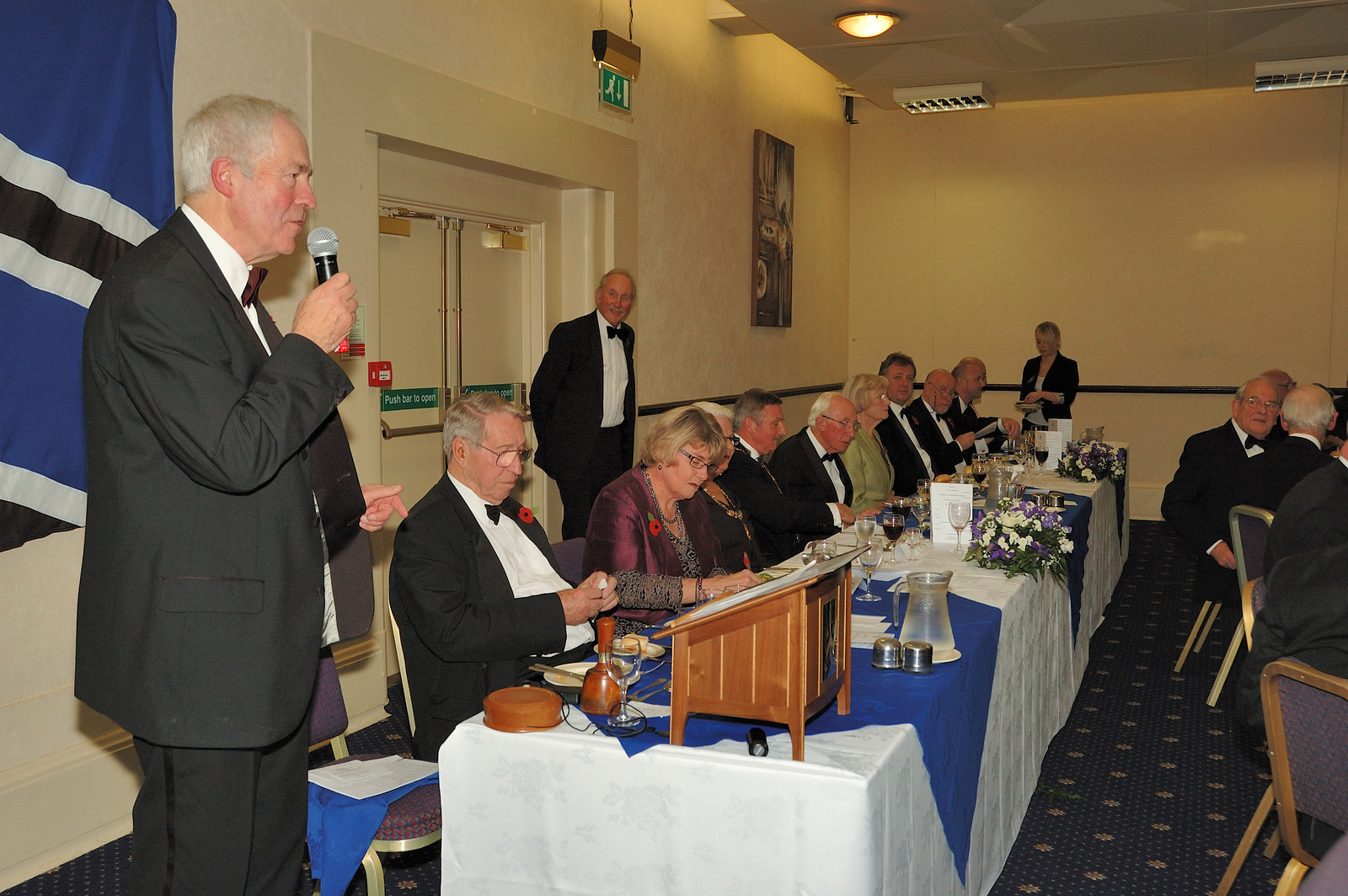 Ian Carnaby (MC) along with the Top Table Guests
The Chairman of the Dinner was Arthur Spencer DFC (1932-1940) accompanied by his wife, the delightful Eva. The guests at the top table were his were The Mayor and Mayoress of Southampton (Councillor Derek Burke and his wife, Christine), Mrs Alice Wrighton (Principal, Richard Taunton Sixth Form College), Matt Atkinson (Vice Principal, Richard Taunton Sixth Form College), David Sidwick (Chairman, Old Bournemouthians'), John Davis (Old Bournemouthians'), John Mist (Old Edwardians') and Jem Musslewhite (Old Symondians'). We were particularly delighted to receive Derek and Christine Burke – Mayor and Mayoress for the second time. They have been true friends of Taunton's over the years and worthy ambassadors for the City. They have attended our Reunion Dinner during both their years in office and we were much honoured by their presence. It was also good to renew friendship with the other non-Tauntonian guests, each of who has been with us at previous dinners. Old Tauntonians' accompanying our guests at the table were Ian Carnaby (MC and Toastmaster) and John Bathurst (Why him? Well, someone has to pour the wine!). One of the recurring "complaints" from previous years was the number and length of the speeches. This year the format was changed so as to eliminate one speech, while efforts were made to encourage those who were to speak to keep their addresses to a specific time limit.
Ian Carnaby (1960-67) accepted the invitation to act as MC and Toastmaster, with an extension of those duties to include welcoming the guests and proposing the toast to "The College".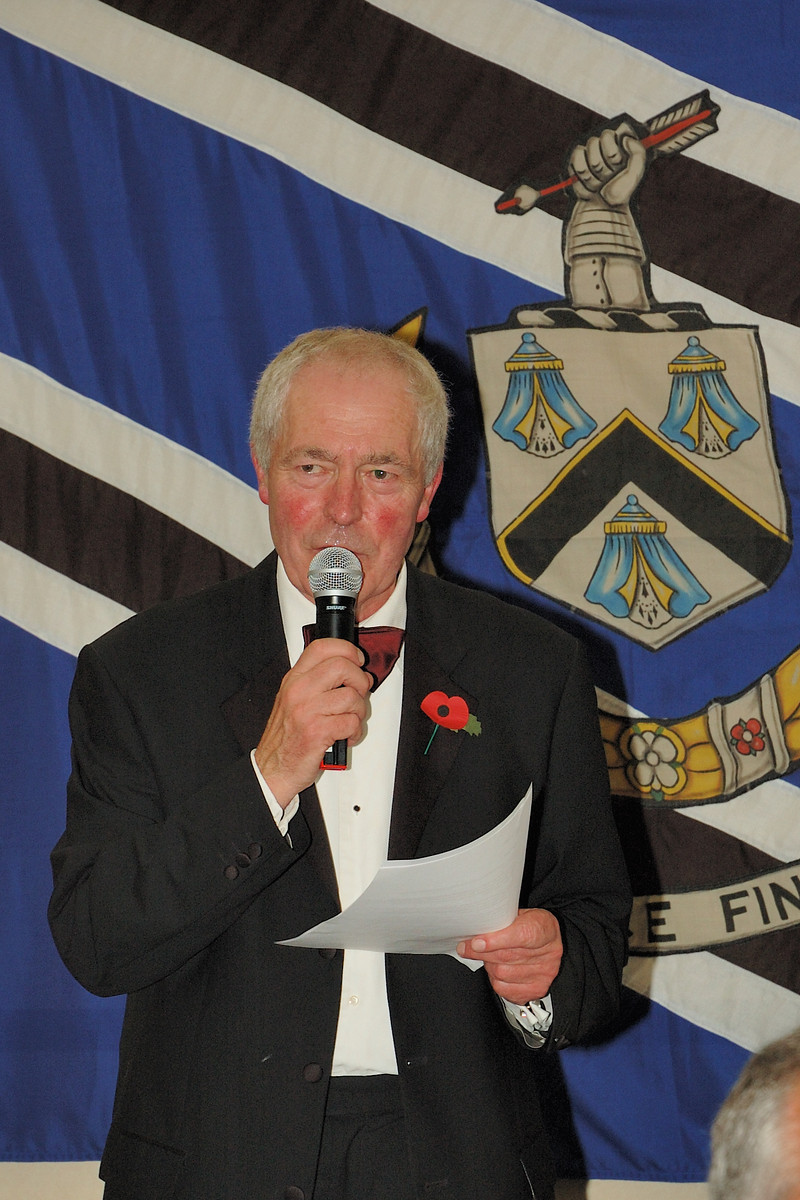 Ian Carnaby - MC
He acknowledged the expertise of Ron Allison, who had performed the night's duties for many years, and commented on how hard it would be to follow him. He hoped it wouldn't seem too much like Cary Grant giving way to Vinnie Jones! Ian explained the changes in the format of the evening and went on to mention those who had written or emailed to apologise for their absence. They included:-

Jim Wilkes – had just returned home to the USA after 2 weeks in England
Jack Ayles - fully committed to family events in Cardiff 

Colin Sivester – sent best wishes on behalf of all OT's in America. 

Roger Bridport - away in Wisconsin 

Stuart Davies - hopes to attend in 2013 

Alan R Watkins - regards to all especially class of '48 

Bill Stone - daughters arranging 80th birthday party 

Bernard (Tommy) Thompson "I'm living in Sweden and, at my age, not quite on! Dr John H Barnes - best wishes to contemporaries 1944-49 

Graham Jones – holiday in South Africa
And unspecified apologies from: Roy Vine, Brian Carter, Geoff Kimber, Norman Hull, Ivor Morgan, Chris Tomlin, John Zillwood and David Pinchon.
During the meal the Chairman took wine with :
All Taunton's School and Old Tauntonian hockey players.
All who were evacuated to Bournemouth in 1939-45 (…..year by year, should the toast be offered, the numbers responding seem to be less).
All Chipperfields.
Prior to the interval came the traditional toasts – The Loyal Toast, The Memory of Alderman Taunton and The Fallen. The last of these – when the lights are dimmed, a facsimile of the stained glass window (once in the Highfield building and now at the College) is illuminated and a silence observed – never fails to bring a lump to the throat and bring mind pictures of those one knew. Last Post is sounded and the Chairman recites the well-known words from the Binyon verse.
From the start of the evening it had been obvious that the microphone - supplied by the hotel – was not up to the mark. While we have a perfectly good system of our own the hotel's regulations were such that for health and safety and liability reasons we were not permitted to use it. As Ian welcomed the guests and expressed the hope that they would enjoy their evening, the performance of the mike gradually lessened. Realising that it would fail altogether either before or during Alice Wrighton's address he prepared everyone for the inevitable. He said a faulty mike was just bad luck but realistically, on a scale of one to ten, it rated only one. Compare that, he said, to the man camping on the hill next to The Little Big Horn who went over to complain about the noise! Ian then offered the toast to Richard Taunton Sixth Form College and introduced Alice Wrighton, Principal of the College.
Alice thanked Ian for his kind words and the Old Tauntonians' for the evening's hospitality and for all the support and encouragement they provide. Over the last year the College had achieved a huge amount …"and I pay credit, as ever, to my colleagues - the great team of staff without whose efforts nothing would be possible." The last year had been another tough one. Student recruitment was still a major challenge and yet another chunk of savings had to be made. However, another half million pounds had been saved - not without some pain! "Despite that we continue to move forward: I am especially excited about the expansion in numbers in our Sixth Form Academy, in our Classical and Jazz Music options and in Science....where we not only have great Teaching and Learning, but lovely new facilities which have helped that expansion: full classes of Physicists, Biologists, Chemists - the future engineers, technicians, medics, computer programmers and scientific boffins." Alice felt the most motivating and the most satisfying thing accomplished was to seize the issue of renaming and rebranding the College, the culmination of which was at the Founders' Day event. The new name of Richard Taunton Sixth Form College was unveiled on a sunny but somewhat stormy day in July. "We nailed our colours to the mast that day. We are proud of who we are, where we have come from, and what we do, as an inclusive, high achieving Sixth Form College - one which is smart enough to offer individual care, support and challenge at a very individual level. About 600 - 700 new students are recruited each year. In comparison, one College to the North of Southampton recruited around 1900 new students! Taunton's was small in comparison, "but one good thing is that students do not get lost at Taunton's – they get noticed and do well! To illustrate her point Alice departed from the "usual" format of her speech. Instead of giving details of activities and general successes she had selected several individual students for mention. Each came to the College with potential but most had backgrounds that meant that extra effort and encouragement were required both from themselves and from the College.
Alex - A lad from Bitterne Park who started playing trumpet aged 8 and who is already a pretty good jazz player. He wants to be a session trumpeter. He is applying to the Leeds College of Music to study jazz – with Bristol, Surrey and Nottingham to fall back on if he doesn't get in. Not only is he a great trumpeter. He also got an A* and As at GCSE... and he has just secured a 'full house' of grade As at AS - in Music, Music Tech, English Language, and Maths. He could have stayed on at the Sixth Form at Bitterne Park, or gone to Peter Symonds or Barton Peveril…but he came to US and, of course, he is thriving! His music life is so full. He is everywhere for the college, and for the SMS ensembles he is part of. He's even played at the Barbican in front of Wynton Marsalis..." (Alice has since told us that Alex has been awarded a scholarship at the Birmingham Conservatoire!).
Saber - An Afghan refugee - from Afghanistan to a Russell Group University via the College. Saber has had to grow up very quickly and overcome significant personae obstacles in order to achieve his qualifications and he is a major success story for himself and for us. His father came to the UK from Afghanistan as a refugee, Saber and the rest of the family followed four years ago. At the time Saber was unable to speak, read or write any English and he has therefore made tremendous academic progress during his time in England. The eldest of five children Saber has responsibility for not only helping his younger brothers and sisters with their homework; he also has sole responsibility for all the household administration and banking. When he came to us he'd had a year at a local school, where he'd got 3GCSEs, but not English and Maths.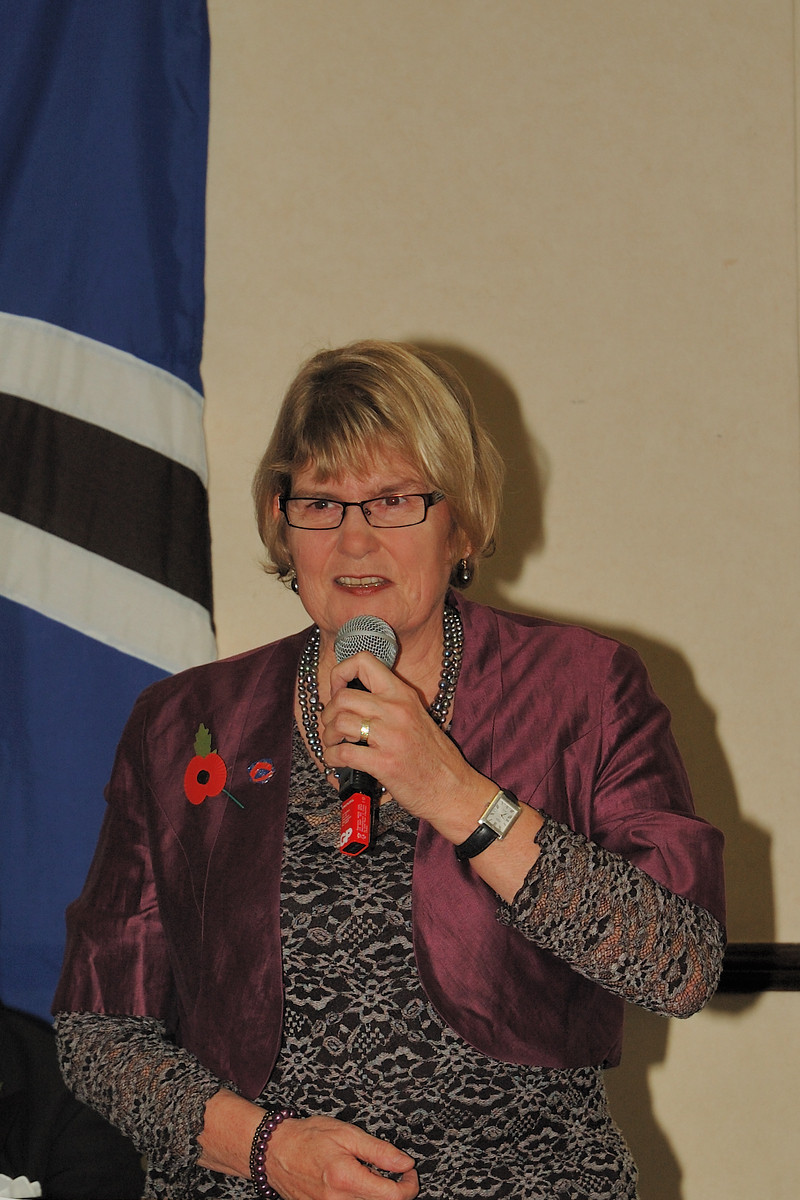 Alice Wrighton
Extremely complimentary about his teachers, he was also clear about his goals. Of himself he said, " I wanted to be one of the top ten students at the College…and that helped me to focus on my learning". Saber's reward was that having achieved a triple distinction in a BTEC IT Practitioners Course, plus A Level Maths and a GCSE in English he is now a Southampton University student, studying IT in Organisations. There were other examples of the, perhaps, closer individual attention that Alice had previously mentioned….

Elijah – A local boy who came from Mountbatten School and didn't want to go to college but was persuaded to do so by his Mum. Now In his second year – studying Chemistry, Physics and Maths – he is one of only 42 selected nationally for an Army Scholarship. In addition to the financial support he has qualified for a place at RMA Sandhurst. Before this he hopes to study Aerospace Engineering at university. A keen Army Cadet he is the holder of the Hampshire Lord Lieutenant Cadet Badge, has raised £2000 for Help the Heroes after climbing Scarfell Pike and earned a silver Duke of Edinburgh award. He says, "At Richard Taunton Sixth Form there is always someone here to help you out – and they push you to do your best". Gary – from St George's – a talented Mathematician, who drove his teachers to distraction by his inquisitorial approach. At the end of his first year he gained an A* in Maths and an A* in Further Maths with 100% in the most difficult module. He achieved two further A*s in Physics and Economics. His results were a remarkable achievement. Now at Warwick he achieved a First in the summer and came top of his year.

Aneta – Her first language is Polish and she came to Taunton's from Cantell School. With a range of D grades on arrival, she did a foundation year of GCSE level studies.- getting a Distinction in Sport and becoming a key player in a girls basketball team that would go on, the next year, to reach 4 out of 5 national finals. In her second year she achieved Distinctions in Sport and Art but crucially succeeded with English and Maths GCSEs. In her third year she gained a Triple Distinction Star in BTEC Sport and an A* in Art. She is now at Bristol studying Fine Art.

Alice then turned to a newly introduced programme that she felt would specially appeal to Old Tauntonians'. It was the Talented Athlete Programme and Elite Athlete Scholarships. Taunton's Sports Scholarships are only available to students already selected to train and compete at junior and senior level. Sport, for all young sportsmen and women, presented tougher and tougher financial challenges. In some instances there were also home circumstances that made for greater difficulty. The College was doing its best to support them but was now making a major effort to get external sponsorship and individual support. She mentioned four young athletes each of whom is dedicated to his or her sport, commits hours each week to training and has to travel all over the country and internationally to compete. Each has a problem with finding the finance to continue. There are, of course, wealthier colleges, able to offer generous bursaries and travel facilities. These are a lure to students and present a risk of "losing out" for colleges such as Taunton's. Alice said that if her college is to maintain its position it must succeed in keeping such students. She asked anyone who thought they could help in any way to sponsor a sports scholarship or help with other links that might lead the college to a source of financial support to, please, get in touch with her (or anyone at the college) either direct or through the Old Tauntonian Committee. She felt it right to conclude with such a request and to remind everyone of the Olympic and Paralympic messages – that human beings have huge potential, that talent will shine through and bring success, but only with an incredible amount of support, hard work, dedication and time – and the right people around you, rooting for you all the way.She hoped that Old Tauntonians' would continue rooting for the College and its students. What the college was doing fitted well with the tradition Richard Taunton started 252 years earlier and she was very proud to be leading the college in what were tough but exciting times. She then offered the toast to the Old Tauntonians' Association.

Ian then rose to "introduce" and say something of the Chairman for the evening, Arthur Spencer. He was not sure if it would be possible to pack more into a life than Arthur had done. Born in Salisbury 1921, his parents moved to Southampton and Arthur grew up in Swaythling. He went to Swaythling Elementary School from where he passed the scholarship for Taunton's. Ian expressed his delight in telling us that Arthur became House Captain of Chipperfield, something that happened to only the best people. (He was allowed to say that because he was the Toastmaster!). When Arthur's schooldays were coming to an end war was looming. He joined the RAF, intending and succeeding in becoming a flyer. He trained in Florida and was posted to 97 Squadron, Bomber Command as a Navigator and was soon in action. "Some of us, born a little too late, can only imagine being caught in searchlights over the Ruhr …but Arthur went on to fly in 50 operations. On this, of all evenings, I should mention that soon after his departure from operations three of his crew were killed over Berlin. He is far too modest to mention his own DFC – although we have" A sportsman and an academic, he was School Captain in 1939, Hockey Captain and a First Xl cricketer. After the war he flew with BOAC and played cricket and hockey for the OTs. Teaching beckoned and he trained at King Alfred's College afterwards taking up an appointment at Wildern School, Hedge End. He left Hampshire for the West Country where he remained for many years, ending in Weston Super Mare as the first head of Priory School. He retired in 1985 since when he and Eva have travelled extensively.

Arthur said he felt that Shakespeare's Seven Ages of Man seemed to provide an excellent template for the type of address it had been suggested he might make. Moreover, ten minutes per age would conform to the second requirement of brevity! (At the time we inwardly worried that he had misheard us in our plea for restraint in timing – but all proved well!)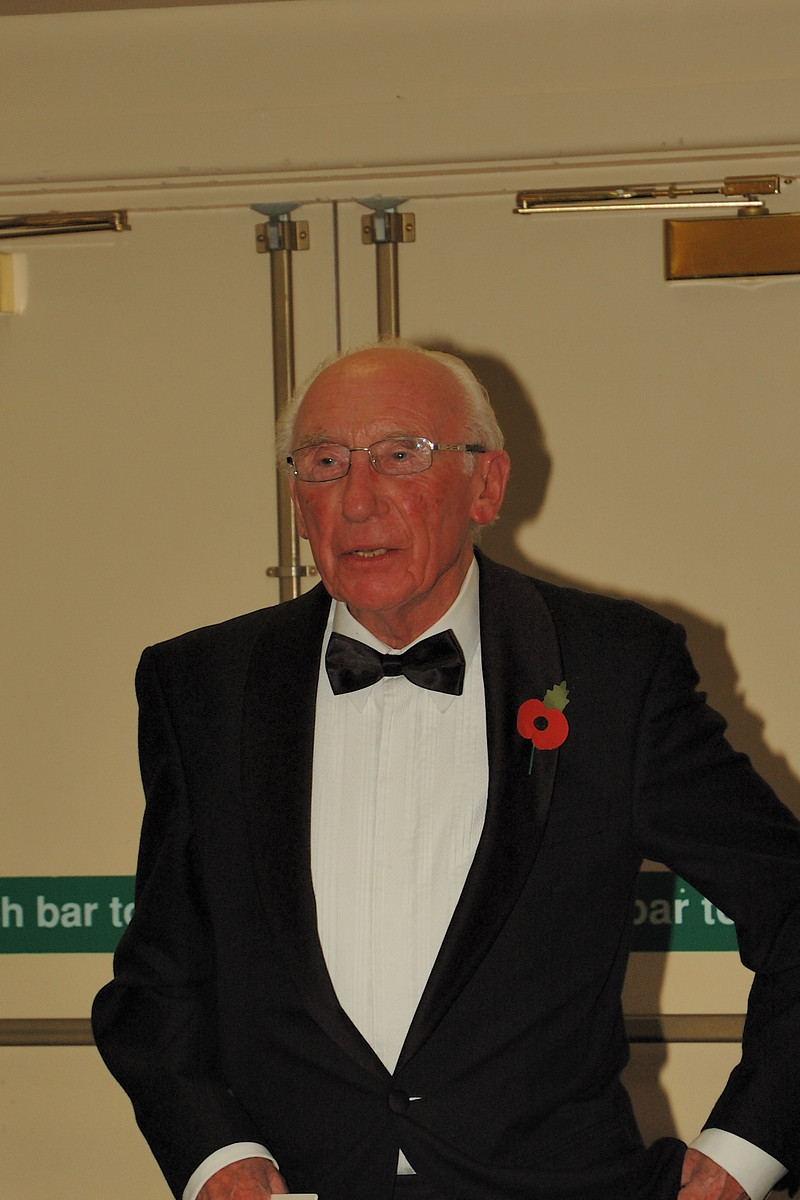 Arthur Spencer
The Infant: He had no recollection at all and would pass on!

The Schoolboy: Shakespeare got it wrong. Yes, a satchel, and Yes, a shining morning face, but not 'whining', nor 'unwillingly to school', nor 'creeping like a snail'. In 1932 there was no such thing as an 11 plus examination for all. Only about a dozen sat the Scholarship. Three passed. Len Sephton and I were lucky to be allocated to Taunton's; one was less fortunate and allocated to King Edward's. Arthur's parents were informed he was making good progress in most subjects, but French 'not very wonderful' – which was an understatement! An exchange trip was recommended and in 1935 ( to be followed in 1936 and 1937) a month's exchange took place to small town in Normandy. Remarkably, Arthur and his French family are still in touch. Contact was lost during the Occupation but later resumed. On the subject of France Arthur told an anecdote heard from a Parisian friend. During the Occupation a German officer on the Metro was beginning to light a cigarette; When a Frenchman pointed out the notice 'Defense de fumer' the officer put away his cigarettes. The Frenchman rubbed hands and murmured, " Petite victoire, Petite victoire'!" Freddie Vause was Arthur's form master for his early years at Taunton's so it was not surprising he took up hockey. Freddie had a well-deserved reputation for dropping off to sleep while teaching, but was an altogether different character on the hockey pitch! A highlight of school hockey was skippering the school's first win against King Edward's 1st X1, for in the mid thirties the 1st team usually lost heavily to KE Seconds. Being School Captain gave Arthur early experience of public speaking because he spoke briefly at the Annual Speech Day. It was usual for such speeches to deplore the lack of playing fields at Highfield, and pay tributes to benefactors. At Bournemouth we couldn't complain about playing fields; the 1940 benefactors were the good people of Bournemouth who deserved our praise. "I'm not familiar with the scriptures but am with the Dictionary of Quotations; From St Paul - 'Be not forgetful to entertain strangers, for thereby some hove entertained angels unawares.' Some angels!"

The Lover: There was one word on this….."Pass!"

The Soldier: Arthur had no military ambition, but leaving School in July l940 military service was inevitable. He was in uniform within weeks of leaving School, and within as few months out of it again since he was sent off to train in Florida. Because the USA was not yet at war, RAF personnel were issued with grey suits and a topee - the latter much to the amusement of the inhabitants of that state. Florida could be dangerous; the siren calls of the young ladies, "Is you'all gonna come and have a Coco-cola, honey?" were best ignored. He returned to UK as Bomber Command was expanding - bigger 4-engine aircraft, many more of them, accurate radar aids. The highlight of the year in Bomber Command was the attack on Peenemunde where V2 rockets were being developed. There were many special features about the raid, but he would mention only two – It was the only time we set out deliberately to drop bombs on people - the scientists and technicians developing a weapon against which there was no defence and no warning. It was the only time in my experience –probably in the whole war - when crews were told that if the attack were not successful, they would have to go back the next night and the next until the job was done. This did concentrate the mind. One might get away with an element of surprise on the first occasion, but not subsequently. Attending unveiling of the Bomber Command Memorial was a memorable event this year. Two special memories of the day were shaking hands Prince Charles and patting Carol Vorderman's derriere! At the end of the war Arthur flew first with Transport Command and was then seconded to BOAC. He then joined the Line flying to the Far East using flying boats (they were refurbished Sunderlands) from Poole. The boats were slow, had a limited range (there were frequent stops to refuel en route) and were not pressurised. Consequently the ceiling was about 8,000ft although they usually flew at about 4 or 5 thousand. The first refuelling stop was Marseilles, and on one occasion they picked up six very attractive young ladies, models, who were going to Australia to display the latest French fashions as France attempted to rebuild its export trade. As they flew further south and east, it became hotter and hotter, and these uninhibited young ladies began to divest themselves of their clothing. By the time they reached the Persian Gulf one wouldn't have thought they could take off another stitch and remain respectable! Arthur had never known the air-crew so concerned for their passengers! "I, of course, would have remained at my navigation table, but the Captain, knowing I had reasonable French, requested my help. I looked round once or twice and thought "Who's flying this aircraft?" In the end, I decided that there was little future for Navigators in Civil Aviation, and decided it was time for a career change.

The Justice: (Equated to teaching) Arthur said he had spent almost half his career as a Deputy Head, a very satisfying role. Eva sometimes used to embarrass him by telling his Head- fortunately a good friend, "Of course it's the Deputy Head who does all the work in the School". In fairness to her, he had to say that she used to say exactly the same to his Deputy when he became a Head. In the Association we had, as our President, the best example of a Deputy Head. ln fact, one of his friends, once a senior member of the Southampton Education Department, told him that if he required any really detailed information about the School, he would go in, pay his respects to the Head, and then go and seek out Ted Colenutt to find the information he needed! After eighteen years as a Deputy, he had been extremely fortunate to get the Headship of a brand new school, able to appoint all his own staff, unencumbered by someone else's organisation of a School. The school built slowly so was in its third year before it had its full quota of Senior posts. When all four deputies were appointed, Arthur told them that they should certainly now have formal Job Descriptions. They should write their own – to be discussed at their next meeting. "This was done, and after a few minor alterations and additions I commented, "Good, that seems to cover everything that should be covered in a well-run school" The Third Deputy, a blunt Yorkshireman, turned to me and said, "And what do you do, Headmaster?......." The Staff gave Arthur a superb retirement party. What gave him the greatest pleasure (and he would get into terrible trouble for telling us this) was when, at the end of many tributes, his First Deputy said, "We cannot conclude without saying a word about Eva Spencer. We are a young staff and there are a great many staff babies. Eva Spencer knows the name and date of birth of every one of them." I, of course, knew that she knew, but was delighted that they had been aware of it too. The Lean and Slippered Pantaloon. This was where we are now. "We try to keep mentally alert with U3A classes and the Guardian crossword, and physically active with much walking in the Mendips, the Quantocks and the Somerset Levels. In his blurb about the Dinner, Johnnie Bathurst mentioned fell walking; yes, we still like to get to the Lake District every year, but no longer aspire to the higher fells, and more content with the valleys. One walk annually is to the remote little cemetery in the Langdale Valley where many of Eva's kindred 'study a long silence.' Last year we found that the South Lakes Council had provided two new wheelie bins at the entrance to the cemetery. It did not seem entirely appropriate that bins were inscribed, like all bins provided by the South Lakes Council, 'NO HOT ASHES'. Arthur then said that this brought us conveniently to:

The Seventh Age – Sans teeth, sans eyes, sans taste, sans everything!

He sat down to a spontaneous standing ovation. It had been a well thought out beautifully delivered address, without the use of a microphone yet clearly audible to an audience whose attention had not wavered. (We don't always get them like that!) Ian Carnaby got us into Auld Lang Syne and main evening was over, although there was time for informal chatting in the bar. The selection of both Chairman and MC proved to be a winner on all counts. In a conversation with one of them, prior to the dinner, we agreed that there is something very special about "performing" in front of one's teachers, contemporaries, local dignitaries, those who attended another local school, one's particular friends…..and Ted Colenutt. One is anxious to do it right. The gentlemen selected are both professionals – an ex-Headmaster and a BBC trained broadcaster. But everyone knew that beforehand – and that made the expectation for excellence that much more demanding. Both of them gave us excellence – in style and performance – and one came away from the evening with a feeling of satisfaction of time well spent in the best of company. JAB Post Dinner Comments from its Chairman Arthur wrote to us following the dinner to say that because of the time factor he deliberately omitted one or two items. However, two he left out because of carelessness. He says: After boasting about beating King Edward's 1st Eleven, I meant to atone by pointing out that the same journal that reported the victory also reported the school Cross- Country. The runners were listed by name in order of finishing. Last "by a length", as Carnaby would say, was…A.Spencer After mentioning the Bomber Command Memorial I meant to mention the large number of OTs who were killed while flying in the RAF –many of them in Bomber Command, many of them with whom I played hockey and cricket. I meant to refer particularly to Dick Leggett, Captain of Cricket about 1936-37, who was a Lancaster pilot.

Johnny Bathurst