Summer Lunch 2013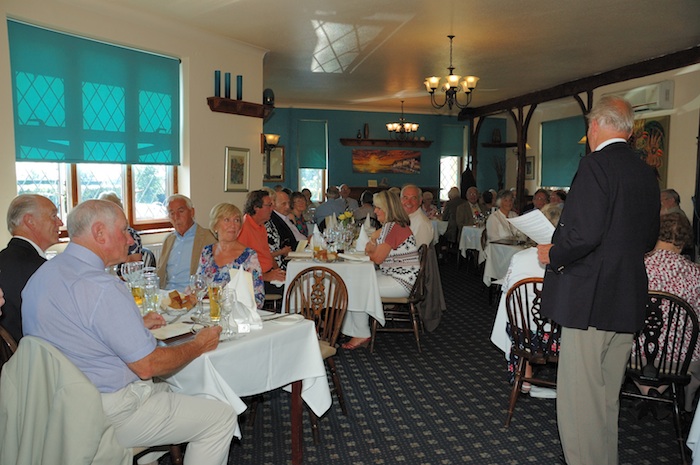 The 9th Summer Lunch was held at Keats Restaurant, Ampfield, when 79 Old Tauntonians and their partners made their way from, in some cases, miles away for a very convivial meeting of old friends. At one point the provisional reservations looked as though they would exceed last year's record but, as was almost inevitable, other commitments and health problems meant that a number of regular attendees could not be there. Of these we mention, in particular, Steve White, Sheila Munday (wife of Dennis) and Owen Ward each of whom was either suffering from or recovering from a setback. We sent best wishes to Steve, whose 95th birthday was to be 30th August. Despite your reporter's best intentions he did not arrive before many others and the table and seating plans were not available for those who arrived before him. The result was a certain amount of close contact in a very small waiting area. However, the natives were all friendly, and some order was soon restored. The number in attendance meant that we had to use both the main and small restaurants at Keats, who had kindly placed the whole establishment at our disposal. Thus, some separation of forces was necessary. The placing of groups of people who wish to sit together poses something of a problem as does placing together some who have never met before. However, we managed it. The great thing is that all the gentlemen are Old Tauntonians and that, in itself, helps enormously. The occasion was relaxed and light hearted, the buzz of conversation and the sound of laughter continuing throughout the time we were there.
Forty-five OTs were there, the years at Taunton's (starting and finishing years) ranging from 1931 to 1966. As last year the joiner of 1931 was Ted Colenutt - President of the Association - and the latest leaver, of 1966, was Roger Parsons - Chairman. Once again we were delighted to see Merle Ball (wife of Ken), Mary Huggins (wife of Doug) and Margaret Stephens (wife of Roy). Each of their husbands were long time members of Association committees and put much of their time into it. Each of the ladies has close friends within the Association and we would like to think they will come back to see us on future such occasions. The two nonagenarians in attendance were Ted Colenutt and Arthur Spencer, both looking astoundingly well. They were accompanied (Ted by Liz, his daughter, Arthur by Eva - both of them delightful) And there were several "first-timers". We welcomed Barry and Judy Greengrass, Arthur and Gill Jeffery, Eric and Carol Morgan, Frank Taylor, Bob Miell and - last but by no means least - Anne Pinchon (wife of David). We heard that Anne was there to see what her husband gets up to at these OT events! We hope that they, too, enjoyed the experience and will come back again.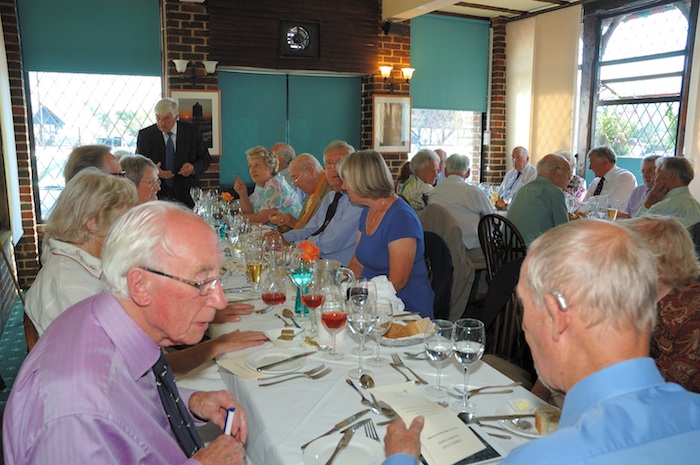 To say 'Thank you' in different ways, year after year, is difficult. Keats was as Keats always is, accommodating, friendly and cheerful. The menu was varied, the food delicious (if you didn't have the bread and butter pudding you missed a treat!) The distances travelled by many are considerable. My thanks, then, to all who come year by year and those who attended for the first time. As I've said before, I hope that you left with the thought that you would like to come again next year. (For those who keep dairies I have pencilled in Thursday 21st August 2014 but will be in touch with everyone when more details are known).
Johnny Bathurst
Afterthought: Nonnie White, Steve's sister, had intended to come accompanied by their great friend Jim Gray. Nonnie couldn't be there but suggested that Jim might still like to come. We rang Jim but despite our efforts failed to persuade him. He said that if it had been an Old Edwardian 'do' he would have done! Thanks, Jim, we know where we stand now!