The New Trafalgar Dispatch, Dorset, 22 August 2005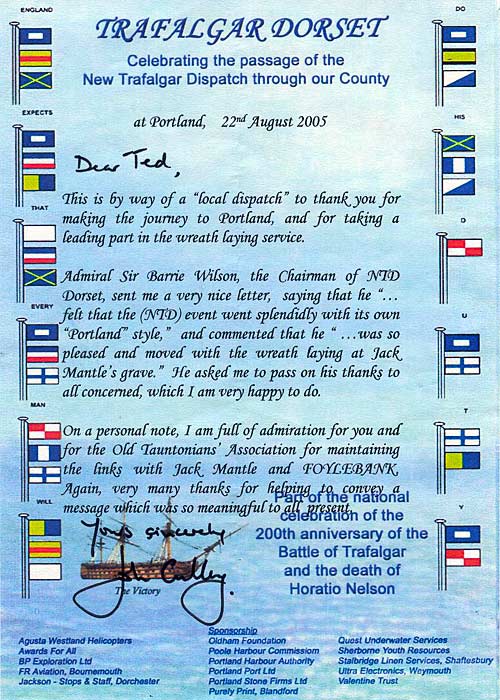 Letter of thanks to Ted Colenutt and the Old Tauntonians' Association
for their part in Trafalgar Dorset (text version)
The New Trafalgar Dispatch was a recreation of the delivery of Vice Admiral Collingwood's original dispatch (report) to the Admiralty following the Battle of Trafalgar. The original dispatch was carried by HM Schooner Pickle from the fleet off Cape Trafalgar to Falmouth. From Falmouth the Lieutenant commanding HMS Pickle travelled by post chaise to London.
The recreation comprises a voyage in the summer of 2005 by the Jubilee Sailing Trust's ship, the Lord Nelson, from Cape Trafalgar to Falmouth following HMS Pickle's track. A specially built replica post chaise then travelled on parts of the route of the original 1805 journey from Falmouth to London.
One of the stopping points for the New Trafalgar Dispatch was Portland, Dorset. Ted Colenutt and Pat Shepherd represented the OTA at the event, which included the laying of a wreath at the grave of Jack Mantle VC. In a moving ceremony, Ted Colenutt made a short speech and read Jack Mantle's VC citation.